Seven Tips for First-time Homebuyers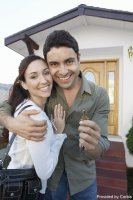 (ARA) – If you've ever thought about owning a home, now may be the time to take action. Lower interest rates combined with a large inventory of homes in most markets across the U.S. may translate into a good opportunity for buyers in negotiating the terms of a sale with a seller.
The home buying process may seem daunting to someone who has never purchased a home before. But, through home buying educational seminars offered in your community, and with the assistance of an experienced loan officer, a first-time home buyer can obtain a better understanding of their financing options, leading to a more positive home buying experience.
'Whether you've been dreaming of owning a home for years or you've just decided it would be a smart financial move to make, your first home buying experience will be a memorable one,' says Jim Ferriter, executive vice president for GMAC Mortgage. 'It's important to learn about your financing options in order to find the mortgage that's right for you.'
Ferriter offers the following tips for first-time home buyers:
Educate Yourself About the Mortgage Process – By taking the initiative and learning about the mortgage process, you can be more confident in the financial decisions you are making. It's important to learn about different types of mortgages, how much you can afford, how your credit impacts your interest rate, and the benefits of home ownership. A mortgage tutorial is available at http://smartedgebygmac.com, which breaks down the home buying process into easy-to-understand steps.
Save Just a Little Bit More – It's not only important to save money for the down payment and closing costs, but it's important to factor in some of the other costs of home ownership such as decorating, repairs and maintenance. Many mortgage lenders recommend that first-time home buyers have at least three to six months of additional savings in their possession in anticipation of these additional expenses.
Check Your Credit – An individual's credit score will have a significant impact on his or her mortgage loan approval and interest rate. A good first step in financing a home purchase is to check your credit history. You can request a free credit report from any of the three credit reporting bureaus: Equifax, TransUnion or Experian. Carefully review your report and contact the credit reporting bureaus to correct any inaccuracies.
Shop Around for a Mortgage Lender – As you start thinking and preparing for the home buying process, start shopping for the mortgage lender from whom you would like to obtain a mortgage for your new home. Because this process is new, it's easy to go with the first lender or loan officer you meet. Instead, take your time and shop around. Start by asking friends, co-workers and family members for recommendations. When you've identified two or three loan officers, ask for references. In addition to pricing (interest rate and closing costs), focus on customer service as well as other services and tools that a mortgage lender may be able to offer you.
Get Pre-approved – Before you start working with a real estate agent, consider contacting a mortgage lender to obtain a pre-approval credit decision. A loan officer will review your financial status, including your income, cash flow and credit score, to help you determine the maximum monthly housing payment for which you may be able to qualify, and, if qualified, 'pre-approve' your mortgage before you've found a home. Armed with a credit pre-approval, you can start searching for homes with a much better idea of your price range, and in turn save time as you will know the right homes to focus on. Obtaining a pre-approval may offer more confidence and certainty to home sellers in your ability to purchase the home.
Don't Be Afraid to Ask Questions – Once you've found your new home, the mortgage lender will help you through the details of the loan process. From application to closing, your loan officer will work through the financing process with you, just as your real estate professional should do in the home buying process. Throughout the process, read all loan documents carefully, and involve an attorney, if necessary.
Inspect – Before you commit to purchasing a home, don't forget to hire a licensed home inspector to conduct a thorough assessment of the property. An inspector can alert you to any major problems with the home, and/or help you understand potential short-term and long-term home maintenance issues.
For more information about the process for buying your first home, contact an experienced loan officer at GMAC Mortgage by calling (800) 888-GMAC or by visiting www.gmacmortgage.com.
Courtesy of ARAcontent