Designer Sinks and Faucets Add Functional Flair to Your Home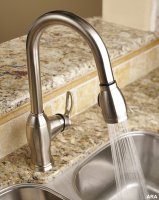 (ARA) – Do you want to fall in love all over again with your kitchen or bathroom, but can't afford a complete remodel? For the easiest and most dramatic change, consider upgrading your sinks and faucets.
If you've been shopping the 'Big Box' stores for sinks and faucets, you may have been put off by the prices of the products you fell in love with. Quality is not cheap. But thanks to the Internet, quality can be affordable. You've shopped for everything from clothes to Christmas presents online, why not shop for your home as well?
Web sites like Fontaine Faucets stock a great selection of stylish options at a price you can afford. Because the company sells its own brand directly to consumers through the Internet, it can offer high-quality sinks and faucets at prices that might surprise you. Co-founders Andy Martin and Geoff Lee are committed to bringing consumers high-quality fixtures on the cutting edge of fashion and design, in the latest trend finishes, at an affordable price.
Whether your home is decorated in traditional, modern or contemporary motifs, Fontaine has products that will blend seamlessly with your décor. Their faucets are available in all the latest decorator finishes, from brushed nickel to oil rubbed bronze and antique copper. Quality workmanship is a priority as well. Fontaine Faucets have incorporated technologies such as ceramic disc valves and PVD (particle vapor desposition) coatings on their products to ensure a lifetime of trouble-free use.
Here are some ideas for using sinks and faucets to give your rooms a quick facelift.
In the Bathroom
The bathroom is quite possibly the hardest working room in your home. If you dream of the gorgeous, spa-like bathrooms in design magazines (with sunken tubs, steam showers and marble floors) but don't have a dream budget, don't despair.
Companies like Fontaine make it easier to give your bathroom a facelift with innovative ideas like offering complete 'families' of product. What this means for you, is that you can quickly order a complete suite of products like their Monaco family, and rest assured that all of your items will match perfectly. From roman tubs and widespread faucets, to robe hooks and towel bars, both the style and finish will flow beautifully. Add to that their wide selection of sinks, including the popular 'vessel' sink style (in glass, marble and porcelain), and you've got a dramatic new bathroom, with just a few clicks of your mouse.
For the Kitchen
The kitchen has become the center of the action in the home. In addition to cooking, it's used for everything from entertaining to doing homework. Home owners want a kitchen that is functional yet attractive. With the popularity of open floor plans, in many homes, the kitchen is in full view of the family room, making it even more important to consider your decorating choices carefully.
Fontaine Faucets offers a number of gourmet faucet options for your kitchen. From the latest in kitchen designs, their 'Bridge' style kitchen faucet offers a touch of classic charm, while their many different pull-out and pull-down faucets offer great style, and versatile functionality in many designs and finishes.
To see all the faucets and sinks available from Fontaine Faucets, visit the company's Web site at www.fontainefaucets.info or call (800) 476-2950.
Courtesy of ARA Content
---