Weatherstripping- Weatherproofing part 4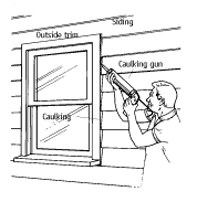 The greatest source of air leakage in most homes occurs around doors, windows and access hatches such as the ceiling opening from the living area into an unheated attic. Weatherstripping can be a delicate job because those openings need to be fitted loosely enough that the door or window operates freely, yet tightly enough that air leakage is stopped.
The type of weatherstripping you'll use depends on the location and the type of opening. Three types of weatherstripping are common:
Compression – Compression weatherstripping is used to seal swinging doors and window sashes. It consists of a molded strip (it may be wood, aluminum or rigid vinyl) with a flexible vinyl bulb along one side. As a rule, compression weatherstripping is the most durable type available.
V-Type Strips – V-shaped weatherstripping (see first two images below) is fitted against the side of the door or window jamb so it presses against the edge of the door or sash and forms a seal. V-stripping may be vinyl or bronze. Foam – Foam weatherstripping is used to seal either swinging or sliding doors or windows. It comes in various sizes, with an adhesive backing on one side. It is fastened to the edge of a door or window stop or to the bottom of a sliding window sash.
Thresholds and Door Bottoms – A threshold fills the gap between the floor and the bottom of a door. It may have a built-in vinyl bulb. If not, it must be used in combination with a door bottom , mounted on the lower edge of the door.
For home improvement advice, visit JS West Lumber & Ace Hardware Sonora, Ca. or visit www.acehardware.com and click on the Answers@Ace icon. Answers@Ace is an online resource with information for do-it-yourselfers about hardware and home improvement projects. The Everyday Projects section has pictures and detailed, step-by-step instructions for this and many more home improvement projects.
---
To speak to an Ace Hardware advisor in Sonora call: 209 532 7446.
---