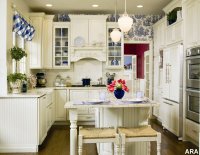 (ARA) – Building your kitchen seemed like it would be fun and easy, until you discovered that inconvenient, load-bearing beam, or how enormous the room felt when you knocked down that wall. Now you'll have to spend a fortune on custom cabinets to deal with these pesky problems, right?
Not always. According to kitchen designers, many of these problems can be solved with a little creativity and stock or semi-custom cabinetry. 'Most people think the best kitchen is the one with the most embellishments or expensive products. But that's not what makes a kitchen beautiful or easy to use,' says Andy Wells, vice president of product design for Decora Cabinets, a line of semi-custom cabinets that are made in Jasper, Ind., and sold through a network of 1,000 dealers nationwide.
The winners of this year's 'Design with Decora' contest, taken from real kitchens created for clients by Decora's dealers, illustrates how smart design can solve some of the most common problems kitchen builders and remodelers face.
Problem #1: Lots of space and high ceilings.
While large kitchens have all the space you'll ever need, dividing it up into manageable portions is hard. 'Fortunately, I had a client who believes in having only one focal point in the room, which in this case, is the limestone mantle hood we created over the range,' says Neil Luck, of NHL Cabinets and Design in Long Beach, Calif., who won the 'best kitchen in the nation' award from Decora for this expansive but well-balanced kitchen.
Luck used several strategies, including creating a separate butler's pantry off the main kitchen space, containing a second dishwasher, a second large copper farmhouse sink, copper countertops, a wine chiller, pantry and cabinets which served as a built-in display area for the client's extensive collection of crystal, china and antique linens. He kept most of the cabinets below countertop level to create open spaces with a clear sightline to the adjoining living room, he says. The very large, 72-inch refrigerator was covered with matching wood panels to tone down its impact. Triple-stack crown molding with black accents joined the cabinets to the high ceiling. The understated kitchen island with a black finish provided an important visual break, too.
Ellen Cheever, a noted kitchen designer, educator, and writer for 'Kitchen and Bath Design News' says, 'We particularly liked how they used the stained glass windows around the hood to lighten the space.'
Problem #2: No room for an island, and short on storage space.
What do you do when you really want an island with seating, and the floor plan doesn't allow it? In the case of this kitchen in Bloomington, Minn., named 'best kitchen in the Midwest,' Decora designer Tracy Foslien had a unique solution — create a thin, asymmetrical island that juts the seating area just past the rest of the cabinets.
'My client wanted lots of detail in the cabinetry, so everywhere we could, we added embellishments like columns, corbels and extra molding to make it look more like free standing furniture,' says Foslein, of Home Valu Interiors in Bloomington. Foslein used an eggshell finish to unify all the cabinetry combined with toile wallpaper in a cheerful cobalt blue and white. The tight proportions of the room were offset by the varying heights of the upper cabinets.
'But the most impressive part of this kitchen is the sheer variety of materials that were used in the wall separating the living room from the kitchen. It was an archway, buffet, china cabinet and curio all in one,' says Mary Jo Petersen, a judge of the contest who is also a kitchen designer, educator and commentator for 'Kitchen Design News.'
Problem #3: A very long, very open space.
Three-time contest winners and Decora Designers Glen Lumia and Gustave Brunet had a big job to do with this kitchen in Haworth, N.J. The clients had taken down walls separating the dining area from the kitchen and living room, and wanted to create a large-scale space suitable for entertaining their large extended family.
'The real challenge of this kitchen was to create a flowing space while maintaining a sense of separation between the kitchen and the adjacent rooms,' says Lumia, of Creative Design Construction in Northvale, N.J.
'They did two very important things right in this room,' says Cheever. 'First, they did not feel compelled to make the cabinets attached to the room's architecture. So the cabinets don't go up to the ceiling, and the cabinets don't crowd the windows and important fixtures. Second, they resisted the temptation to make the island too big,' she adds.
Details made the space special, like popping up the height of the sink and range, repeating circular windows, using light wood for the cabinets, creating an elegant wood hood and tilework, and using furniture-like accents, Cheever says.
Problem #4: A very small kitchen space that is also a default entryway and dining room.
With a floor plan that was doubling from just 100 square feet to over 200, this kitchen in Tavernier, Fla., 'named Best Kitchen in the South,' presented quite a challenge for kitchen designer Kathy Ferguson at Palen cabinets in nearby Islamorda.
'It is the first room visible when you enter the home, so it needed to be a showstopper,' Ferguson says. Furthermore, Ferguson had to deal with an intrusive, load-bearing column, a ceiling beam, and a scarcity of available wall space. She addressed this challenge with a room divider of dark cherry cabinets that incorporated beams and columns, stocked with drawers for pots, pans and trays. The kitchen's island was designed with contrasting off-white cabinets, with pull out spice rack inserts, and fluted legs as embellishments. The design opens up into a dining area, where she added a bank of window seats made from Decora cabinets under a large run of windows.
'This design is very today, very modern,' says Penny Chin, a contest judge, noted kitchen designer, and writer for many kitchen design publications. 'We loved her use of materials … the combination of the dark, contemporary cabinets with the unusual river rock backsplash and the granite counters. She used the flexibility of Decora's semi-custom system to make use of every square inch — beautifully,' she adds.
For a closer look at these projects, visit Decora's Web site at www.decoracabinets.com.
Courtesy of ARA Content
For home improvement advice, visit JS West Lumber & Ace Hardware Sonora, Ca. or visit www.acehardware.com and click on the Answers@Ace icon. Answers@Ace is an online resource with information for do-it-yourselfers about hardware and home improvement projects. The Everyday Projects section has pictures and detailed, step-by-step instructions for this and many more home improvement projects.
---
To speak to an Ace Hardware advisor in Sonora call: 209 532 7446.
---