Installing Ceiling Fans- Part 7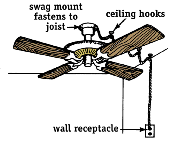 SWAG KIT USE
Swag kits are available if you wish to have a super-easy installation and a degree of portability in a ceiling fan. These replace the above-ceiling wiring job. In this case, though, the hanger bracket is screwed directly into a ceiling joist (see image).
The swag kit is wired into the fan, and the fan assembled as described earlier. Then slip it into the hanger bracket.
The chain and cord are hung from hooks carried across the ceiling, toward a wall and down the wall, where the cord plugs into a handy receptacle.
A swag-mounted ceiling fan can be taken down in a few minutes and moved to another location.
ELECTRICAL SAFETY
Use extra care when working with electricity. Less current than it takes to light a 60-watt bulb can be lethal.
All wiring should conform to local electrical codes as well as to the current National Electrical Code (NEC). You can probably find a copy of the NEC at your local library.
Never trust a light switch to render a fixture 'dead,' because sometimes the power enters at the fixture, even when the switch is located in the circuit beyond it.
Turn off the circuit you're working on by switching off a circuit breaker or by unscrewing a fuse (the house main switch should be off when handling fuses). Then padlock the panel if you can.
Make sure the circuit is truly 'dead' before touching any wires or terminals. Check with a high-voltage neon tester. Test from the black wires to a grounded metal box or other good ground, then to the white wires. Also test from the white wires to a ground. Since there may be more than one circuit inside an outlet box, before you take off a cover, see that all of its circuits are off. Also, be sure your tester is functioning by first trying it in a live receptacle.
Test your finished work with the power on using the neon tester. Check black to white and black to a ground. It should light. Test white to ground. It should not light.
If you aren't knowledgeable about working around electricity, call in a professional.
TOOL AND MATERIAL CHECKLIST
Ceiling Fan
Mounting Kit
Swag Kit
Lock Washers
Low-Ceiling Mount
Angled-Ceiling Mount
Patented Support Unit
4′ x 1-1/2′ Octagon Electrical Box
Neon Test Light
No. 2 Phillips Screwdriver
Claw Hammer
3/16′ Slotted Screwdriver
Speed Controller
Pliers
Wallboard or Compass Saw
Soft Cloth
Stud Locator
Ladder
Electrician's Pliers
Wire-Stripper
Cable-Ripper
Surface-Wiring System
Cable, Switch/Outlet Box, Switch, Box Connectors, Wirenuts, Switch Cover, Bonding Screw, Staples