Yard Work Accidents are Common This Time of Year – Here are 7 Tips to Stay Safe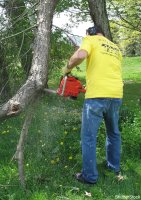 (ARA) – This time of year, you can't help but notice the chainsaws buzzing and the hum of wood chippers reducing twigs, branches and what were once towering trees into mulch. Not to mention, the noise coming from edgers, rototillers and other machines working hard to get the yard ready for winter. As long as the weather is nice, do-it-yourselfers will be out in force cleaning up yards across the country.
If you're planning to join the ranks, be sure to take the time to study up on safety precautions before operating equipment like chainsaws, chippers and edgers. They can be dangerous if you don't take the proper safety measures.
Since January 2000, there have been dozens of claims involving people who were injured while using rented yard equipment, according to ARA Insurance Services, an insurance company owned by the American Rental Association. Here's the breakdown:
Wood chipper accidents — 11 claims
Chain saw accidents — 12 claims
Log splitter accidents — 11 claims
Accidents involving rototillers — 6 claims
Stump grinder accidents — 6 claims
Don't become the next statistic. Make sure you know how to operate the equipment before getting started.
A good place to turn for safety advice when it comes to using these machines is the very place you get the equipment — your local equipment rental store. When you arrive, tell the person behind the counter what you want to accomplish and they will help you find the equipment you need to get the job done. Rental store employees are also regularly trained on using the equipment and can provide you with plenty of tips for proper and safe use.
'Employees at equipment rental stores are an excellent source for information when it comes to figuring out how to operate equipment correctly,' said Chris Wehrman, CEO of the American Rental Association, the trade association for the rental industry. 'Safety is a top priority among our member businesses, and store owners go to great lengths to ensure that employees are regularly trained on proper use of equipment and machinery.'
If, for example, you're planning to cut down a pine tree with a trunk that's three feet in diameter, they will help you find the proper saw and show you the right way to handle it. You'll likely be urged to first clear away dirt, debris, small limbs and rocks from the area you're planning to cut. Then before turning on the saw, to check controls, chain tension and all bolts and handles to ensure they are functioning properly. You'll also be instructed to wear protective equipment when operating the saw, which includes hand, foot, leg, eye, face, hearing and head protection.
Chippers can also be dangerous when they aren't handled in the correct way. A machine that is powerful enough to chew up tree limbs and then spit them out as little chips can easily do the same to a hand or arm, according to ARA Insurance Services.
The Department of Labor's Occupational Safety and Health Administration put together these seven tips to keep in mind while operating a chipper:
Never reach into a chipper while it is operating.
Do not wear loose-fitting clothing around a chipper.
Always follow the manufacturer's guidelines and safety instructions.
Use earplugs, safety glasses, hard hats and gloves.
Protect yourself from contacting operating chipper components by guarding the infeed and discharge ports, and preventing the opening of the access covers or doors until the drum or disc completely stops.
Maintain at least two tree or log lengths between chipper operations and other workers.
If your chipper is jammed, make sure the engine is turned off when you try and remove the shrub or branch.
No matter what kind of equipment you're renting, chainsaws, chippers or some other tool, be sure to ask the clerk you're dealing with to include the instruction manual and any safety information they may have. To find the rental store nearest you, log on to www.RentalHQ.com.Courtesy of ARA Content
For home improvement advice, visit JS West Lumber & Ace Hardware Sonora, Ca. or visit www.acehardware.com and click on the Answers@Ace icon. Answers@Ace is an online resource with information for do-it-yourselfers about hardware and home improvement projects. The Everyday Projects section has pictures and detailed, step-by-step instructions for this and many more home improvement projects.
---
To speak to an Ace Hardware advisor in Sonora call: 209 532 7446.
---