Save Energy This Winter without Spending a Dime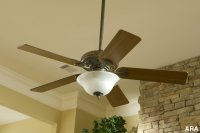 (ARA) – As fall turns to winter, energy usage turns into higher energy bills and, according to the Department of Energy, 2007 energy costs are increasing. While there are plenty of costly ways to save on your utility bills this winter — buying a high efficiency furnace, radiant floor heating system or solar-paneled roof — there also are things you can do to cut energy usage that won't cost you a dime.
'We're seeing a trend with consumers who want to live comfortably and efficiently,' says Chuck Smith, CEO of Hunter Fan. Smith says many consumers aren't willing to sacrifice their comfort in the name of energy efficiency, but they do want smart solutions for consuming less.
'Having the right products and home infrastructure is only part of the equation, 'says Smith. 'Some of the most effective energy savings solutions can be implemented simply by knowing what to look for around your home.'
According to Smith, some of the most effective energy-savings solutions are right under your nose or, in one case, right above your head.
Follow these no-cost energy saving tips for the winter:
Flip the Switch â