Manage Rainwater Runoff With Beauty and Style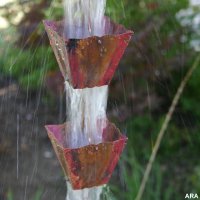 (ARA) – The growing desire to create a 'green' environment combined with the trend of extending our outdoor living space bring functional and decorative ways to manage water on our property. Water management is a great way individual households can help to keep watersheds, rivers, lakes and oceans from filling up with polluted runoff.
Rainwater hits every surface on our property — the roofs of the house and garage, sidewalks, driveway, roads, and lawn and gardens. The more impermeable square footage we have, that is, the more surface area that doesn't absorb water, the more water runs into the storm sewers which drain into our watersheds.
As water runs along these impermeable surfaces, it picks up whatever chemicals are there, from auto residuals such as oil and exhaust, to road treatments like tar and salt. Water runoff also seeps into our lawns and gardens, picking up lawn chemicals we've applied: fertilizers, pesticides, weed killers, etc. These also seep into the groundwater.
The more responsibility we take to manage the water that falls on our own property, the cleaner the world's water supply. Here are a few ways the environmentally conscious homeowner can manage the water that falls on their little corner of the world — and do it in a pleasing, functional way, that adds beauty to the yard.
Rain Barrel
Add a rain barrel to catch the water that runs from the roof. Installed below the downspout, a rain barrel becomes a reservoir for you to water gardens and flower pots. Rainwater is great for gardens, as it doesn't have the chlorine and fluoride that are added to our drinking water. Plants thrive when they're watered with rainwater. Rain barrels come with a screen over the top to keep mosquitoes, other bugs and debris out, as well as a hose attachment at the bottom to draw water from the barrel. Rain barrels come in an assortment of finishes, from antiqued wood barrels, to modern looking plastic or metal or ceramic basins.
Rain Chain
Made of solid, quality copper, rain chains are a beautiful and functional alternative to traditional, closed gutter downspouts. Guiding rainwater visibly down chains or cups from the roof to the ground, rain chains transform a plain gutter downspout into a pleasing water feature. From the soft tinkling of individual droplets to the soothing rush of white water, they are a treat to hear. Over time, copper develops a beautiful patina which adds to its character, and the wide variety of styles available complements any home and garden decor.
Easy to install, rain chains attach to the existing gutter with no need for a contractor and you can set up the rain chain to run right into your rain barrel. RainChains.com sells their cup chains in both standard (8 1/2 feet) and custom lengths. Link chain designs are sold by the foot. Rain chains are not damaged by freezing, and require less maintenance than regular downspouts. The visible open system helps too — you can see when leaves or other debris collect in the cups; unlike downspouts, where if there is a clog, you can't see it.
Rain Garden
A rain garden is a landscaped area planted with wild flowers and other native vegetation that soak up rainwater, mainly from the roof or other nearby buildings. The rain garden fills with a few inches of water after a storm and the water slowly filters into the ground rather than running into a storm drain. Rain gardens can be maintained with little effort after the plants are established, don't require pesticides or fertilizers and attract hummingbirds, butterflies and dragonflies which eat mosquitoes.
To directly manage runoff from the roof, attach a drain pipe to your downspout or under the rain chain receptacle for direct drainage into the rain garden. Dig a trench to lay the drain pipe, making sure it's at an angle to drain toward the garden for perfect rainwater runoff management. A rain garden can be installed for about $100 by doing the labor yourself and purchasing a few small plants, and can be installed in one weekend.
Your personal contribution to cleaner water not only cleanses the world's water supply, but enhances the beauty of your outdoor living space.
For more information about Rain Chains, go to www.rainchains.com or for a free catalog call (866) 742-RAIN. For more information about rain gardens and rain barrels, visit www.raingardennetwork.com.
Courtesy of ARA Content
For home improvement advice, visit JS West Lumber & Ace Hardware Sonora, Ca. or visit www.acehardware.com and click on the Answers@Ace icon. Answers@Ace is an online resource with information for do-it-yourselfers about hardware and home improvement projects. The Everyday Projects section has pictures and detailed, step-by-step instructions for this and many more home improvement projects.
---
To speak to an Ace Hardware advisor in Sonora call: 209 532 7446.
---