Find Your Design Inspiration: Decorating Tips that Tap Into Your Personal Style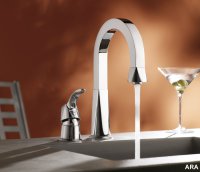 (ARA) – A favorite color, treasured art object or even a memento from a great vacation – any of these items can be the starting point for great design in your home. Find your design inspiration and use it to decorate in a way that speaks to your personal style.
Know Yourself
Take a tour of your own home. Do you notice you use a certain color in a variety of ways? Are there multiple objects, throw pillows, rugs or artwork in the same color family or with the same design theme? Is there a personal collection that shares the stage with your other décor? If so, you may have more of a style than you realize.
'Sometimes when you live with something for awhile, you overlook its meaning or sense of place in your home,' says home improvement expert and 'Country Home' contributing editor, Leslie Segrete. 'You need to step into your home with fresh eyes and rediscover what speaks to you from a design standpoint. Use that as your inspiration for the rest of your home.'
Look Around
Next, observe the world around you. Are you drawn to particular objects in nature? Are there certain colors that evoke strong emotion? You might be inspired by what you experienced during a trip to a tropical paradise or you may want to capture the feel of a cozy ski lodge.
'From the natural world, memories of a great vacation or even a recent stop at the mall, any time you step out of your home look to the items that catch your eye,' suggests Segrete. 'You may be surprised to see how simple it is to use destinations as a means of bringing your own personal style into your home.'
Find a Focal Point
A focal point creates visual interest and is often the first thing that draws your eye into a space. As you walk through your rooms, identify key focal points throughout your home. Is it a favorite piece of artwork, distinguished architectural feature, mirror or other collectible?
'In the bathroom, for example, a great focal point is often your faucet, so be sure to choose one that makes a statement,' explains Segrete. 'I like the Divine Collection from ShowHouse by Moen because of its strong, clean lines and square decorative accents. It has a distinctly elegant style that can draw you into the room. Plus, matching accessories such as a towel ring, robe hooks and a glass shelf will pull the room together for a well-coordinated look.'
In a family room or open great room, the television often becomes a focal point. Segrete recommends finding a unique armoire to 'hide' the television when not in use, so that beautiful windows, fabrics or architectural details can take center stage instead.
Use a Theme
For a more personalized focal point, consider decorating with a theme. Not only will a theme jump start your creativity, it will often lead to the design of a very unique, one-of-a-kind room.
Says Segrete, 'A theme can be the perfect way to recreate the lazy feel of the islands in your bedroom, or the luxurious, spa-like atmosphere of a five-star hotel in your bath. The possibilities are endless and should be as colorful and creative as your personality.'Consider what hobbies, dreams, locations, interests, collections or design elements could be used as themes in your home and begin to experiment.
After all, your home should feel uniquely your own. Look for design inspiration in the world around you and learn to express your personal style.
For information on the Divine Collection from ShowHouse by Moen, visit showhouse.moen.com. Additional style tips from Leslie Segrete can be found at www.lesliesegrete.com.
Courtesy of ARA Content
or use: For home improvement advice, visit JS West Lumber & Ace Hardware Sonora, Ca. or visit www.acehardware.com and click on the Answers@Ace icon. Answers@Ace is an online resource with information for do-it-yourselfers about hardware and home improvement projects. The Everyday Projects section has pictures and detailed, step-by-step instructions for this and many more home improvement projects.
---
To speak to an Ace Hardware advisor in Sonora call: 209 532 7446.
---