Interior Decorating Trend: Wallpaper Makes a Comeback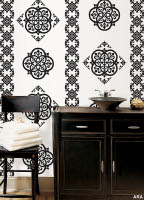 (ARA) – Since Oprah announced on her TV show that 'wallpaper is back' and Time Magazine called wallpaper 'hip' and the 'latest passion' of interior designers, the plain painted wall seems a bit boring.
If you haven't given your walls much thought since last agonizing over paint chips, now is the time to consider today's new wallpaper and wall decor products. It's like switching from traditional to high-definition TV — you won't see walls the same way ever again. Wallpaper's sharper image has everything to do with advanced technology incorporated into striking designs to suit the way we live today.
These are just a few of the wallcovering innovations that add a designer's touch to your decor without breaking the bank:
Easy-Hang Wallpapers

Almost all wallpaper companies produce easy-hang 'non-woven' wall coverings, which are easy to hang and remove. Installing non-woven wall coverings can be faster than painting, which requires preparing the wall surface (wallpapers always hide a myriad of blemishes), applying primer and at least two coats of paint.

Non-woven wall coverings adhere to walls with magnet-force, yet are easily repositionable. Unlike pre-pasted, paper-backed wallpapers, non-woven wallpapers do not expand or contract on the wall, so seams won't ever separate — in fact, they virtually disappear.

Made from a blend of natural and synthetic fibers found in common household products like tea bags and coffee filters, non-wovens are tear-resistant during installation and removal. Forget about using steamers and chemicals to pry wallpaper off sheetrock. A quick tug at a corner of these eco-friendly wallpapers brings entire sheets down in minutes without damaging walls. This makes wallpaper a viable option for renters, who can even roll the sheets and use them in another home when they move.

Natural Textures

Wallpaper companies have always produced eco-friendly wallpapers such as naturally textured sea grass, bamboo, grasscloth, silk, burlap and jute — but only for the high-end of the market. Recent technological advances have made them both far more affordable and colorful. Natural wall coverings are now available in fashion-forward peacock blue, silver, gold, kiwi and violet.

For a designer touch, cover the archway or support walls of a great room with a naturally-textured wallpaper to envelop the room in warmth.

Peel-and-Stick Wall Decor

At first glance, these new 'wallternatives' look like giant stickers in a box. But this peel-and-stick technology sticks to walls only as long as you want with no residue; and can be repositioned, removed and reused on any flat surface. Perfect for children and teens with changing tastes and college students living in dorm rooms, many peel-and-stick wallpapers also have decidedly grown-up appeal, including dramatic damasks, hip silhouetted blooms and pop-art flowers. These non-toxic, amazingly affordable wall appliques can transform even the smallest bathrooms, bedrooms, laundry rooms and alcoves.

Digital Printing

Specialty limited-edition murals in painterly or photo-realistic styles; scenes of romantic, faraway places; and amazingly realistic nature scenes pack a powerful visual punch and take the place of costly artwork. Thanks to new digital printing technologies, wallpaper companies now offer detailed murals that no one ever tires of viewing.
Interior designers often choose murals for rooms where families linger, like the dining room … and now you can, too.
Courtesy of ARA Content
---