Trump Administration's Interior Secretary Zinke Stepping Down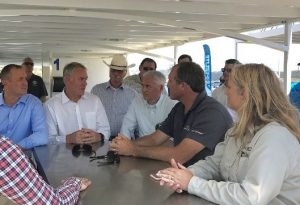 L-R Jeff Denham, Ryan Zinke and Tom Mclintock listen to concerns while on a pontoon boat at New Melones

View Photos
Sonora, CA– President Donald Trump says Interior Secretary Ryan Zinke will leave the administration at the end of the year.
Trump tweeted Saturday that Zinke "accomplished much during his tenure."
The Associated Press reports that Zinke is facing allegations of misconduct surrounding travel, political activity and potential conflicts of interest. The report adds that Zinke's leaving may be timed to avoid a shift in power as Democrats will take control of the House in January and have promised to intensify probes into his conduct.
Zinke was no stranger to the region after several visits this year, regarding issues related to fires, water, and work place harassment within the National Park Service. As reported here, the latter prompted him to visit Yosemite in April to announce a "zero tolerance" policy, after the park's now former superintendent retired amid criticism of calling employees "stupid" and "lazy."
Zinke also toured Lake Don Pedro and New Melones in July, along with Congressmen Tom McClintock and Jeff Denham, to discuss concerns related to increased water flows from regional rivers (click here for that story), which the California Water Resources Control Board passed just this week, as outlined here. Later he headed back to the Yosemite area to get a front line view of the Ferguson Fire and suppression operations (detailed here). Then in November, he joined US Agriculture Secretary Sonny Perdue for a tour of the community of Paradise, which was devastated by the Camp Fire, where both called for a revamp of forest management practices to reduce fuel loads, including more prescribed burns and logging, as reported here.
Many of his stances have environmental groups like the Center for Biological Diversity putting out statements today welcoming his coming departure, while others, like Alaska  Republican Senator Lisa Murkowski, are calling him a "strong partner for Western states."
President Trump noted in his tweet that a replacement would be announced next week. The Cabinet post requires Senate confirmation.