The Drumbeat of Spring Approaching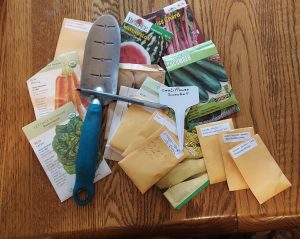 Photo by Jim Bliss of seeds

View Photo
The drum of time beats differently for everyone. Some people gauge time by the passage of holidays, the change of season, or the passing of old friends or family. Eventually, time's drum brings a new spring.
Nights are still cold but sunshine warms the days. Hens lay eggs again. Girl squirrels are flirting with boy squirrels. Seed catalogs and internet posts about spring planting are knee-deep. What are the drum beats saying to plant this year?
People who grow plants from seed are busy. Seed packets are in a deep pile, both new (2023) and old (2022 and older). Last year's seeds may have a viability of 50%. If you grew winners from those 2022 seeds, look forward to them again this year. There are always winners and losers—flowers and vegetables—in the garden planting experiment.
Last year's sweet pepper winner is the tasty Ukrainian "Leysa" pepper, in such high demand that a seed package has only ten seeds. The sweet and desirable thick skin supports a unique heart shape that ripens to a rich, red color. The plants are bushy and hardy (a little afternoon shade makes them happy). There should be a guarantee that some of these will never make it to the kitchen but will be enjoyed in the garden.
Zucchini can create a "monster" problem. Alternative choices in smaller summer squash include lemon squash, golden egg, cube of butter, eight ball, and Y-star. Plants are more compact, yet still high yielding with delicious fruit. These are best harvested at a smaller size. Lemon squash has the best insect resistance. If started from seed, squash may be started indoors or out; just take care not to disturb the root system upon transplant.
Looking for a way to use up bushels of tomatoes you grow annually? Create a spot for hot peppers for salsa. Common jalapeno now has unique varieties, including bushy and prolific plants made just for containers. The Big Boy Hybrid and the Jalapeno Gigante boast 5-inch-long peppers. Spicy flavors abound even with increased size. Our summer heat helps create hotter peppers. The capsaicin compound concentrates around the membranes of the fruit, near the seeds.
Tomatoes are king in the home garden. Every year there are new varieties and hybrids.  Plants labeled VFN-resistant are genetically improved to survive disease. Burpee Seed Company has a new tomato called Vivacious Hybrid. The fruit is oval, orange, and prolific. Vivacious has a claim to fame of higher beta-carotene levels providing 40% of the daily intake of vitamin A in just one tomato. Several years ago, there was a new orange cherry tomato named Sungold. If you have yet to try them, they are a must for your garden. Sungolds—snackable right off the vine—only make it into the house to enjoy because the plant is covered with so many tasty fruits.
If you are choosing to experiment with new varieties, remember to plant your old standbys just in case the new plant does not perform. Garden experimentation with Mother Nature as your lab partner will answer the drumbeat of spring and give you the best of all worlds, both new and old.
Julie Silva is a University of California Cooperative Extension Master Gardener of Tuolumne County.