19th Annual Master Gardener Garden Tour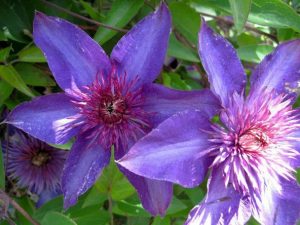 Master Gardener Demonstration Garden

View Photos
UCCE Central Sierra Master Gardeners of Tuolumne County will host their 19th annual Garden Tour and Smart Water Expo from 10:30 a.m. to 4:00 p.m. on June 8th. Proceeds from the tour provide Master Gardener Scholarships for Columbia College students, purchase gardening reference books for the Master Gardener Library and the Tuolumne County Library, and provide operating funds for the demonstration garden.
This year's theme of "smart water use" is highlighted at the Wilson-Zook Garden where a 6,000-gallon cistern provides water for the gardens. Brad Zook will give a talk about the watering system every hour on the hour during the garden tour. Meet him at the cistern to learn about their water system and the solar system that runs their well.
Master Gardener Dede Moreno, co-captain with Becky Alexander, at the Wilson-Zook Garden wrote the following additional details about the garden:
Candace Wilson and Brad Zook purchased 20 acres on Mt. Elizabeth in 1999 with a vision of building a home that was part of the mountain with very little impact on the land. In 2005 they moved in and were completely overwhelmed with the difficulty of planting in red-clay dirt. They planted many "deer resistant plants" and built cages around them to keep the deer out. However, they soon began to tire of waking up each morning and finding deer in the yard munching at the Mt. Elizabeth version of Whole Foods.
Initially, Zook and Wilson built a fence around the house and planted maples and aspens. They followed with a guesthouse, a pool house and stables, all of which they have landscaped and provided with a watering system. Over 100 yards of wood shavings and horse manure have been composted to enrich and condition the soil. They have now fenced all of the surrounding outbuildings.
As you wander around the gardens you will see many roses, countless irises from their friends Norm and Laura, rhododendrons from Candace's father, and maples from Jack Frazier in Tuolumne.
Water for the gardens is collected from the driveway and roof of the house. Brad and Candace built every wall on the property and planted almost every tree and bush on their beautiful 20 acres of self-sufficient heaven. When they aren't in the garden, they have their grandchildren, horses and dogs to keep them busy.
As you tour this year's water-efficient landscapes, here are a few garden etiquette tips:
Bring a hat, sunscreen, and water. Wear comfortable walking shoes. It's likely that the weather will be sunny and warm.
You will be visiting residential neighborhoods and parking may be limited. Carpool if possible.
Plan a lunch break and pit stops. Restrooms will not be available at home garden sites.  Restrooms and refreshments are available at the Cassina demonstration garden, 251 South Barretta Street, Sonora.
Bring a camera to record plants and landscape treatments you especially like. Ask permission from the Master Gardeners on duty before taking any photos.
Stay on marked paths.
Do not clip or injure plants in anyway.
No smoking. No pets. No strollers. No food. No litter.
Turn off your cell phone or at least put it on 'vibrate' mode so everyone can enjoy the gardens.
Take only one copy of any available handout.
And lastly remember to 'Be generous with your praise, gentle in your criticism.'
Garden tour tickets contain a map with directions to each of the homes. There will be directional signs on streets and roads leading to the gardens. Master Gardeners will be on hand at all the gardens to answer any questions you may have about the display gardens, your own garden or gardening in general.
Rainwater catchment systems will be demonstrated at 11:00 a.m. at the Master Gardener demonstration garden, one of the sites on the tour. And, at 1:00 p.m., Rob Kostlivy from Tuolumne County Environmental Health will talk about how to install a graywater system. Copies of the UCCE Tuolumne County Master Gardener book, "Sharing the Knowledge: Gardening in the Mother Lode" will be available for purchase at each garden.
Garden Tour tickets are available at Columbia Nursery in Columbia; J.S. West Hardware, Antiques, Etc. and the UCCE office in Sonora; The Nest in Twain Harte; Nature's Whole Food Depot Nursery in Standard; and from any Tuolumne County Master Gardener.  Tickets are $10.00 (children 12 and under free). Tickets will also be available on the day of the tour at the Master Gardener demonstration garden at 251 S. Barretta Street in Sonora, CA. Tickets can also be purchased on-line at: http://ucanr.org/tuolumnegardentourtickets2013