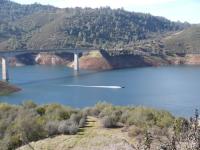 New Melones Lake attracts visitors from all over for its beautiful scenery, water sports and wildlife. The reservoir is set in the foothills of the Sierra Mother Lode along Hwy 49 between Angels Camp and Sonora.The Reservoir was constructed in 1983. It has 12,500 surface acres of water and 100 miles of shoreline when full.

Glory Hole has many recreation trails, a little less than 15 miles all together. Buck Brush Loop and Heron point are easy trails, Tower Climb is as steep as it sounds.
Natural Bridges can be accessed from Parrotts Ferry road. It is open to foot traffic only and is a somewhat steep trail down to Coyote Creek. In the summer bring your inner tube to float down the river and under the cave like natural bridge.Other trails in the area: Carson Creek, Gold Rush, Frontier, Peoria Wildlife Mountain and Ridge Trail (Horses allowed), and Table Mountain.There is likely some gold left in the New Melones area. For more about gold finds in the area see the rock hounding page. For water levels visit California Department of Water Resources
New Melones Visitors Center

Hours: Open year round Wednesday through Sunday, 10:00 a.m. to 4:00 p.m., and closed Mondays and Tuesdays
6850 Stud Horse Flat Road
Sonora, CA 95370
209-536-9543
Website
New Melones Lake Visitor Center and Museum were completed as a part of the New Melones project in 1992. The modern displays and exhibits are about the area's geologic past, Mi-Wok Indian and early human history, the California Gold Rush, mining techniques, ranching, the town of Robinson Ferry, natural history, and the New Melones project itself. Highly recommended are the guided history and nature walks that rangers conduct.
There is more information about New Melones Lake here.
Dragoon Gulch
Dragoon Gulch, Sonora, CA, United States
Columbia College Trails
More about Columbia College
Tuolumne Railroad Trail
West Side Trail
Lyons Dam
Trail to Lyons Dam
Mokelumne Coast to Crest Trail


Mokelumne Coast to Crest Trail

Mokelumne Coast to Crest Trail

Natural Bridges


More about Natural Bridges and New Melones here.

Natural Bridges

Table Mountain BLM hike
New Melones and Table Mountain details here

Table Mountain Trail/Grotto Climbing 1st parking area

Parrotts Ferry New Melones BLM hike
Parrotts Ferry New Melones BLM hike
Red Hills
More about Red Hills

New Melones and Glory Hole details here
Pinecrest Trail
More about Pinecrest Hiking

Pine Crest Trail

Big Trees
Big Trees Trail Info

Calaveras Big Trees / South Loop Mountain Bike Trail details
Day Hikes in Yosemite
Yosemite hiking overview