Hunting
Hunting in the Mother Lode offers the chance to appreciate nature and match your skill and with against a variety of game. In the Mother Lode the most common places to hunt are in Zone D-6. Zone D-6 covers Tuolumne County and has more space to hunt than Zone D-5 which covers Calaveras County.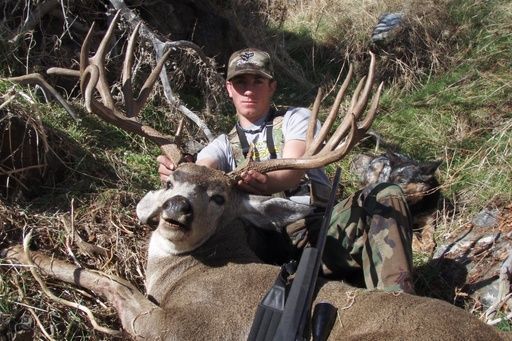 Deer Populations
According to the department of fish and game, "The deer population in Zone D-6 is considered to be stable to increasing… Overall, fawn survival in Zone D-6 has been good for the past several years and it is expected a fair number of legal younger bucks will be entering the population in the next several years. Herd composition counts in Zone D-6 indicate that the overall buck-to-doe ratio was 44 bucks for every 100 does observed with a sample size of 476 in the fall of 2000. During these counts the number of bucks per 100 does ranged from a low of 39 bucks per 100 does in the Stanislaus herd to a high of 50 bucks per 100 does in the Yosemite herd."
The subspecies of deer inhabiting Zone D-6 is the California mule deer. In the higher elevations of Zone D-6 they are migratory.
When and Where
Hunting season begins in August and ends by November in the Mother Lode. From mid-October on, winter storms will bring the deer down to between 5,000 and 8,000 feet. They frequently follow ridge tops and stream corridors. Successful hunters may spend a considerable amount of time hiking and scouting in the pre-season.
Summer range habitat for the migrant herds may be found anywhere from 5,000 feet to the Sierra Crest.
Alpine County area (most locations are within the Carson-Iceberg Wilderness): Arnot Creek; Iceberg, Airola and Disaster Peaks; Paradise Valley; Clark Ford drainage; the Dardanelles Basin, including the Dardanelles and Dardanelles Cone; Jenkins, Hiram and Champion Canyons; Fence and Drew Creek areas; and Stanislaus and Sonora Peaks.
Tuolumne County (areas within the Emigrant Wilderness): Kennedy Lake; Grouse Canyon; Grizzly Meadow and other areas adjacent to the Sierra Crest; willow runs and huckleberry oak brushfields associated with most high mountain peaks; Buck and Emigrant Lakes; Whitesides, Horse and Spring Meadows; Louse Canyon; Brown Bear Pass; and Lunch and Cooper Meadows.
Tuolumne County (areas outside the Emigrant Wilderness): Red, Bald and Night Cap Peaks; Clark Fork Meadow; meadow complexes from Niagara Creek to Silver Mine Creek; Eagle Peak; Big and Little Rattlesnake Creeks; Liberty Hill; Peyton Saddle; Bummers Flat; Wheats Meadow; Herring Creek; Hammil Canyon; Pinecrest Peak; Niagara, Mill, Cascade, and Lily Creeks; Fraser Flat; the Strawberry Fuelbreak; Bourland, Fahey and Bell Meadows; Dodge Ridge; Crabtree Camp; Mud Lake; Wrights Creek Burn (near Long Barn); Granite Creek Burn (near Cherry Lake); Camp Clavey; Wolfin Meadow; Big and Little Reynolds Creeks; Jawbone Pass; Hells Mountain; and Crocker Ridge.
Aspen Meadows
Aspen Meadow offers both Deer and Bear hunting drop camps. A high-quality California hunting experience free from the crowds of people and drenched in the beauty of the wilderness. Three different Sierra Nevada deer herds migrate to the Emigrant; the Jawbone, Yosemite and Stanislaus with a small number of mule deer.
Regulations
Reminder: Lands within Yosemite National Park and State Game Refuge 1-R are closed to hunting. Hunters should be aware of State Game Refuge 1-R, located between the North and Middle Forks of the Stanislaus River. This area is well-defined on the Stanislaus National Forest map and is also well posted. Please note that there are travel restrictions through the Game Refuge for hunters transporting hunting weapons (See Fish and Game Code Section 10506).
The most comprehensive maps of the area are the National Forest maps. USFS maps are available at all USFS offices or you can contact the USFS Pacific Southwest Regional Office at: 1323 Club Drive, Vallejo, CA 94592 (707-562-8737).
Harvest Information
Information on deer harvest for this area is available in tables contained in the annual Deer Kill Reports available on-line here. The most useful tables for the purposes of planning or applying for hunts in this area are Tables 1b (Harvest and Success Information), 2a (Antler Class Information) and 10b (Drawing Statistics).
If you want to stay in the Mother Lode take a look our list of places to stay.
Planning a wedding, conference or other event? Take a look our list of places to host your event.
Tell us about your experience at this place! Contact Us