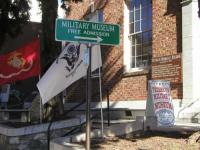 Hours: Mon-Fri, 10am – 2pm. Call for weekend hours.
9 N. Washington Street
Sonora, CA 95370
(209) 533-0923
"Biggest Little Museum on War for the purpose of Promoting Peace"
This museum has the usual antique guns and uniforms, historical records and historical portraits. It also has some unique gems including a rare plaque from Spanish American War, and accurately detailed models of military equipment. There's even a large anti-aircraft gun outside the building. Friendly curators are happy to share their military stories with visitors. Even if you aren't a fan of the military, just go in, check out some of the stuff and enjoy!