Angels Camp Museum
Hours: Thursday – Monday 10am to 4pm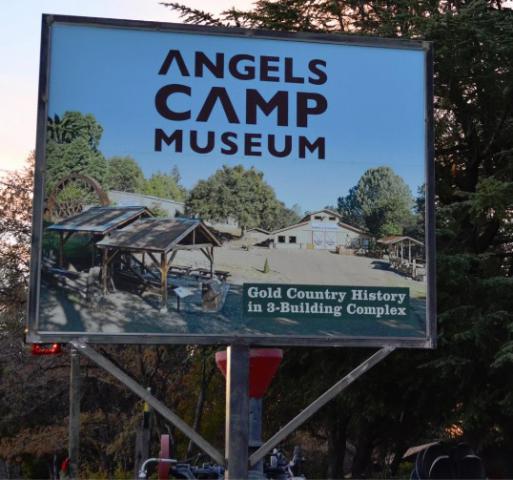 753 South Main Street
Angels Camp, CA 95222
(209)736-2963 Phone
Website
Located on three acres of the historic Angels Quartz Mine, the extensive collection carriages, carts, and wagons will remind you of when horses helped to carry almost everything. Displays include a Pelton water wheel, mining equipment and an intricate working model of a stamp mill. The museum is dedicated to inspire understanding of the gold country history of Angels Camp and the Mother Lode region.
Visitors can stroll through the beautifully landscaped historical park to explore extensive indoor and outdoor exhibits that include a doctor's office and The Mark Twain Exhibit, as well as ranching and artisan exhibits. Continuing through the museum, visitors can also view two steam traction engines and exhibits highlighting mining equipment such as an overshot water-wheel in its original location, a hydraulic monitor, drills, ore cars, and the working model of a famous stamp mill.
Bring your lunch and enjoy a picnic under native oak trees of China Gulch where the '49ers prospected for gold. Make sure to check out the Altaville Schoolhouse – one of the oldest and best preserved little red schoolhouses in the state, and the historical Sam Choy mercantile that tells the story of Chinese culture in downtown Angels Camp. Stop by the gift shop for one-of-a-kind souvenirs including a copy of Mark Twain's notable story 'The Celebrated Jumping Frog of Calaveras County.'
A variety of household items are on display outside and don't forget the wonderful Rock Garden with large pieces of minerals on display. 2013 Admission fees are $5.00 for age 12 and up, $2.50 for age 5-11, age 4 and under free. It is $5 to do some gold panning.
For more about rocks and minerals in the area check out rock hounding in the recreation guide.
If you want to stay in the Mother Lode take a look our list of places to stay.
Planning a wedding, conference or other event? Take a look our list of places to host your event.
Tell us about your experience at this place! Contact Us