Don't confuse Sonora with Sonoma near Napa Valley, but the Mother Lode is home to award-winning wines. Many are highly acclaimed by wine connoisseurs and enthusiasts nationwide. The flavor is influenced by a climate and soil chemistry are similar to the Napa and Bordeaux regions with long and warm summer days and cool nights.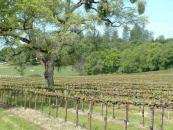 Mother Lode vineyards are nestled in the peaceful surroundings of the Sierra Foothills. At several vineyards you can sip on wine as you take in the sweeping splendor of the view of the rolling hills accented with lava rocks.
If you are looking for something to eat, visit our Dining Guide with reviews and menus of local restaurants.
These are just a few of many wineries in the area. Go here for the complete list in our yellow pages.