Letters To Santa Delivers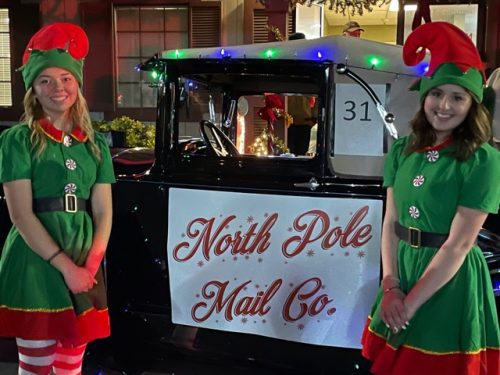 Downtown Sonora was a busy place during the 32nd annual historic Sonora Christmas Parade, and there was much holiday cheer. More photos and video are in the news story here.
There was a huge response to our letters to Santa contest and gift certificates were awarded Monday, November 29. A list of the winners is below. Clarke Broadcasting's parade entry, a Model A vehicle, got lots of positive comments, and our elves were a huge hit.
Happening now, KKBN 93.5FM and Star 92.7 are overwhelmed by all the creative and amusingly troublesome Elf on the Shelf contest entries! Share the joy with us by checking out KKBN.com or KZSQ.com to see all the fun photos.
What is up next? The Cash Drive for Interfaith Social Services of Tuolumne County. This exciting day of calls and pledges is heartwarming and a highlight for our volunteers. KKBN-KZSQ-KVML will be live on the air on Friday, December 10th accepting pledges for Interfaith. Call 1(209) 533-1450 from 6am-Noon, Yazel in the Morning on Today's Country 93.5 KKBN, Mark on Morning Star Cafe on Star 92.7, and Mark Truppner on KVML AM1450 and FM102.7 will give ongoing updates of the totals pledged. Businesses that participate will be recognized on the air. Interfaith will use your donations to feed and provide services for our less fortunate neighbors.
Letters To Santa Winners:
Name/Age/From
Maddy H. / 6 / Sonora
Garret H. / 1 ½ / Sonora
Steven T. / 3 / Sonora
Cheyenne M. / 5 / Sonora
Olivia H. / unknown
Kaleb P. / unknown
Jackson S. / 9 ½ / Tuolumne County
Charlie W. / 4 / Sonora
Avianna B. / 7 / Columbia
Hudson / 4 / Soulsbyville