Five Ways to Stay Safe at the ATM This Holiday Season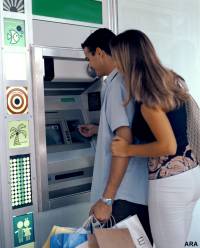 (ARA) – ATM convenience is essential for hectic shoppers to get quick cash this holiday season. While Americans make more than 11 billion ATM transactions annually, December is always the busiest month for ATM usage, according to CO-OP Financial Services, which operates CO-OP Network, the nation's largest credit union ATM network. In fact, in 2006, CO-OP Network set a record for the largest one-day volume in Network history, with over 3.5 million transactions just on Christmas Eve.
When ATM transactions increase, so do fraud, ID theft and crime at the ATM. With 400,000 ATMs across the United States, these convenient cash machines can be an easy target for thieves looking for a quick buck. While most of these machines are secure, consumers should always take certain precautions, especially during the busy month of December.
Here are some suggestions that help make trips to the ATM merry and safe this holiday season.
Come Prepared — Before arriving at the ATM, prepare all documents and have your ATM card ready. Maintain a small supply of deposit slips at home, the office or in your car and fill them out before going to the ATM. 'Criminals generally select victims who are unaware and unprepared,' says Stan Hollen, CEO, CO-OP Financial Services, which operates 25,000 ATMs across the United States and Canada. 'Attitude and demeanor are important, so walk purposefully to the ATM and stay cognizant of your environment – especially at night.'
Stay Aware of Your Surroundings — Keep a constant watch of the nearby area while standing at the ATM. If you are using an indoor ATM where a card is needed for entry, don't let anybody else in who you don't know. Walk away if you see anything suspicious and if your transaction is in progress, be sure to cancel before leaving.
Select an ATM with an Unobstructed View — Make sure you select a well-lit ATM that is visible to a passerby and not blocked by any barriers, including shrubs, signs or buildings. Do not select an ATM at the corner of a building because it creates a blind spot while you conduct your transaction. If possible, select an ATM that is patrolled by a security guard or is equipped with a transaction surveillance camera. 'If you must use an ATM at night, consider taking someone with you,' says Hollen.
Protect Your PIN — Keep your PIN a secret — do not share it with anyone. When entering your PIN at the ATM, stand between the machine and people waiting in line and shield the keypad with your hand or body.
Complete Your Transaction and Leave — After your transaction is finished, make sure you have your card and transaction record. 'Avoid counting or displaying large amounts of cash,' says Hollen. 'If you get cash, put it immediately in your wallet, purse or pocket.' When leaving the ATM, make sure you're not being followed. If you think you're being followed, go to an area with a lot of people and call the police.
Courtesy of ARA Content
---