Making Money Resolutions this Year? Here's Help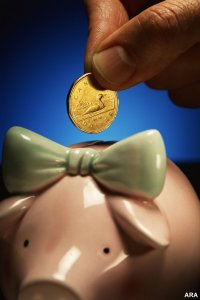 (ARA) – If you're like most Americans, you'll make one or more New Year's resolutions. And if you follow the pattern, you'll likely break those New Year's resolutions before the holiday decorations are put away.
But some New Year's resolutions are so important that you need to find a way to stay on track. Getting your finances in order falls into that category. Whether you need to get control of your credit card debt, save for a big purchase, pay for college or make your mortgage payments more manageable, you can reach your financial goals with planning and patience. Here are some painless tips to get you started.
Pay Off Credit Cards
The average American carries about $8,000 in credit card debt. With the average interest rate on credit cards at 15 percent, carrying a large balance can really add up. To get out from under credit card debt, first consolidate your balance on to the credit card (or cards, if necessary) with the lowest interest rate, and stop using the rest. Web sites like www.lowermybills.com make it easy to compare credit cards side-by-side and search for one with a low APR.
Examine your spending, creating a realistic budget. Leaving credit cards at home when you shop will help eliminate impulse buying. Try to make more than the minimum payment each month, even if it's only a few dollars extra.
Lower Your Mortgage Payments
Chances are your mortgage payment is your largest monthly expense. If interest rates have gone down since you financed your house, consider refinancing. Yes, there will be expenses associated with refinancing, but if you plan to stay in your home long term, the ongoing monthly savings can justify the cost.
Likewise, if you have an adjustable-rate mortgage (ARM) that is reaching the end of its fixed period, your mortgage payment could increase significantly, so refinancing to a fixed-rate mortgage can be a smart financial move.
Saving for a Goal
Perhaps your 50th wedding anniversary is coming up and you want to take that trip of a lifetime. Or maybe your son or daughter will be heading off to college in a few years. By starting to save for that goal now, you're less likely to rely on credit cards to foot the bill. 'Finding extra money each month to sock away can be tough, but just remember that even small amounts add up,' notes Matt Coffin, president and founder of LowerMyBills.com.
Review household expenses to find places where you can painlessly cut some fat from your budget. Reevaluate your cell phone bill, for example. Are you using a plan that really fits your needs? Can you get a better deal on your long distance phone and Internet service? Review your insurance plans. The lower your deductible, the higher your premium. While it can be scary to think of having to pay the first $500 or $1,000 of an insurance claim, when was the last time you made a claim on your homeowner's or auto insurance? Would you have saved more than the cost of the deductible since that time? You can compare rates on all these services and more at LowerMyBills.com.
'More and more homeowners are choosing to use the equity in their home to pay for things like college tuition,' says Coffin. 'The easiest way to do this is with a home equity loan or line of credit, which allows you to borrow money using your home's equity as collateral.' A home equity loan provides you a lump sum, while a home equity line of credit, sometimes called a HELOC, functions more like a credit card that you can use as needed.
No matter what your financial goals for the coming year, these tips are smart moves that can help you lower your monthly expenses, increase your expendable income and become financially secure.
To compare rates on insurance, cell phone plans, mortgages, home equity loans and more, visit www.LowerMyBills.com.
Courtesy of ARA Content
Sponsored by: Peter M. Galde who is the founder and principal at Cornerstone Capital Funding, 14520 Mono Way, Suite 110, Sonora Ca. 95370. Peter has 28 years experience in the finance industry. E mail Peter or call him on 209 532 7711 for further information.
---