Want a Great Looking Lawn Without All the Hassle?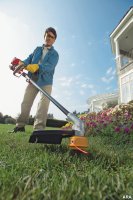 (ARA) – It's the age-old question: where does our money go? Although there's not always a simple answer, the annual Consumer Expenditure Survey from the Bureau of Labor Statistics provides a representative response for the average American household. And the annual survey not only presents hard numbers, but also suggests trends for future consumer spending.
It seems that buying new clothes or going to the movies aren't priorities when it comes to spending hard-earned money. For Americans, the look of their lawn, however, is at the top of the list. Spending on lawn and garden equipment — representing the fifth-largest household category — grew by 11 percent while other household spending was stagnant.
Industry forecasters are optimistic that lawn and garden maintenance will continue to take precedence with American families this spring — the season when most homeowners focus on their yard work. And with the latest outdoor power equipment featuring advanced technology and a wide array of features designed to save time and effort, it's easy to see why.
Leading the charge are outdoor handheld products designed with 4-cycle technology. Similar to that of an automobile engine, 4-cycle outdoor powered products use gasoline in the fuel tank and retain oil in a separate lubrication system. Four-cycle technology for outdoor handheld power equipment was actually adapted from its use in larger engines, such as lawn mowers and automobiles. Today, this technology is rapidly replacing the standard 2-cycle engine. The latest 4-cycle products allow homeowners to have a well-kept lawn without spending the entire weekend working in the yard.
For example, Troy-Bilt 4-cycle string trimmers boast Spring Assist starting technology to dramatically reduce the starting effort, an extended reach shaft for easy trimming under shrubs or low branches and a SpeedSpool line replacement system that allows replacement of the line without removing the spool. Homeowners who want to reduce effort by multi-tasking are turning to products like Craftsman's blower/vacs that automatically mulch debris at a 10:1 reduction ratio. Some 4-cycle equipment is even compatible with EZ-Link attachment systems, allowing users to interchange a variety of attachments for added versatility and time savings. For example, a 4-cycle string trimmer can be transformed into a blower/vac, edger or cultivator within seconds, making it a complete lawn and garden system.
Across the board, when it comes to string trimmers, blower/vacs or even garden cultivators, 4-cycle handhelds offer numerous advantages over their 2-cycle predecessors, including:
Easier starts – A spring in the 4-cycle starting system reduces the amount of effort required to pull start.
Better engine performance – By more efficiently converting the fuel into operating performance, users gain more torque and low-end power at lower RPMs via a patented overhead valve (OHV) technology.
Less mess and more convenience – Because there is no mixing of specially formulated oil with gasoline, users can rely on one gas can for all of their power equipment needs. Fewer spills and the elimination of burnt oil odor are added benefits.
Environmentally friendly engines – The average 4-cycle engine produces half the emissions (hydrocarbons, nitric oxides and carbon monoxide) of a standard 2-cycle engine. And with a cooler running engine, users can expect increased fuel efficiency of approximately 25 percent.
Less noise and vibration – As opposed to a 2-cycle engine's 95 decibel level (comparable to a motorcycle), 4-cycle engines create less noise – typically 75 to 79 decibels. The lower operating tone is also more comfortable to the human ear. And with less vibration, users of 4-cycle equipment have increased control and comfort.
Competitive pricing – Despite the vast increased efficiencies and benefits of a 4-cycle product, the price point is only slightly higher than a 2-cycle product – typically 25 percent.
As long as Americans continue to take pride in the appearance of their lawns and gardens, the trend of spending more on outdoor equipment will likely keep pace. Industry forecasters, lawn and garden equipment manufacturers and consumers recognize that if outdoor chores are going to be performed, they might as well be enjoyable.
For more information on premium 4-cycle outdoor handheld power equipment, log on to www.mtdproducts.com.
Courtesy of ARAcontent
---