Your Money and Your Life: Heart Health Linked to Financial Health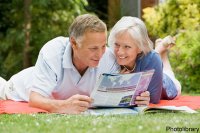 (ARA) – Retirement planning requires a healthy amount of discipline and focus. You want to make sure you have enough money saved to maintain your lifestyle, but the truth is there's more to successful retirement than an oversized IRA. Your health is perhaps the most significant component in your retirement equation, since it directly impacts your ability to enjoy the fruits of your labor. Now is an excellent time to focus on making lifestyle changes — you might even be surprised to learn that in some cases, a healthier you can lead to an even healthier bank account!
The Heart of the Matter
According to figures published by WebMD in 2006, coronary artery disease (CAD) affects nearly 13 million Americans and is the leading cause of death of both men and women in the United States. Some of the risk factors for heart disease are within your control, such as quitting smoking, reducing your cholesterol and maintaining a healthy weight. Obviously, these lifestyle changes increase the likelihood of living a long healthy life in retirement. But did you know these same lifestyle changes can lower the premiums you may pay for life insurance, allowing you to keep more of your hard-earned money?
Protect Your Heart, Increase Your Savings
'In the past, people being treated for coronary artery disease might assume they were automatically excluded from the valuable protection of life insurance,' says Mike McFarland, vice president, Individual Life Insurance Underwriting at Prudential. 'But in response to medical advances, some insurance carriers are using new underwriting guidelines that make life insurance more readily available for some individuals who have been treated for coronary artery disease, and offer them the opportunity to qualify for significantly lower premiums.' Of course, rates would vary based on each situation and the applicant's complete medical history. Speak with a qualified insurance representative to learn how these new guidelines might benefit you.
When it comes to setting important goals, whether it's saving for retirement or lowering your cholesterol, what you do today can have significant ramifications for the future. There's never been a better time to take control of your future, and make the positive changes necessary to ensure your golden years are filled with health, wealth and happiness.
Courtesy of ARAcontent
---