What if Your Diamond Falls Down the Drain?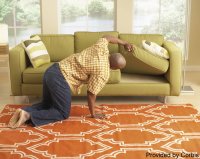 (ARA) – Do you know which of these scenarios would most likely be covered by your standard homeowners or renters insurance policy?
While gardening in your backyard, the diamond disappears from your ring.
You left your ring in a public restroom after taking it off to wash your hands. Twenty minutes later, when you remember where you left it, it's gone.
Someone breaks into your home and steals your brand-new engagement ring.
If you guessed number three, you're right. However, you'd likely need proof of burglary before a standard policy would cover your ring. And you'd only get a limited amount for it, probably $1,000 depending on your insurance. So for a lot of newlyweds, even when the ring's covered, you couldn't buy a new one with your claim settlement.
So what should you do? Schedule it. 'Scheduled' (also called 'floater' or 'inland marine') coverage provides additional insurance for specific items.
'Jewelry is valuable, and it's easy to lose and easy to steal,' says Jonathan Farris, assistant vice president at General Casualty Insurance Companies. 'When it's scheduled, you can rest assured that it will be covered no matter how it's lost.'
Schedule the expensive stuffFarris explains that on a standard homeowner's or renter's policy, jewelry is covered for 'named perils' like fire, theft or lightning. When scheduled separately on your policy, it's covered for 'all perils,' even if you drop your diamond down the kitchen sink.
Another benefit to scheduling your valuables is that, with a current appraisal, you should have enough coverage to buy a replacement. And most consumers find the cost of scheduling to be very reasonable. For example, to schedule a $3,000 ring costs about $30 a year on a General Casualty or Unigard insurance policy.
Christy Niemann, assistant vice president at Unigard Insurance Group, adds that newlyweds often remember to get ample insurance for their recently purchased rings, but might overlook other high-value items. In addition to jewelry, consumers might want to schedule high-end watches, computers, cameras, china and silverware.
When deciding which items to schedule, Niemann says to consider anything valued over $1,000 or any group collectively valued over $2,000 (think china set). 'Go with your gut,' she says. 'Schedule items you wouldn't be comfortable replacing on your own.'
Don't forget to documentWhen scheduling an item, give a detailed description and store the appraisal and bill of sale in a safe place, like a safety deposit box or a home safe that's fireproof and waterproof. These documents will come in handy if your ring slips off while you're snorkeling in Hawaii.
Another good idea is taking photos or shooting a video of your valuables — as well as the general contents of your home — and safeguarding the pictures or video with your other documents. 'Can you close your eyes and identify every item in your living room? I know I can't! So a video is a quick, easy way to document your belongings,' Farris says.
He adds that, while everyone should create a home inventory, it's especially important when merging two households or receiving expensive wedding gifts.
Befriend your agentOnce you've taken stock of your stuff, consult your insurance agent. Your policy should include enough coverage to replace your home and its contents, should disaster strike. Your agent can recommend changes and make updates.
Niemann suggests getting jewelry re-appraised every three to five years (more if worn daily) and sharing that information with your agent. Niemann recalls a claimant who needed her diamond ring replaced but hadn't gotten an appraisal in more than 10 years. With no documentation of the ring's updated value, her insurer settled the claim for the originally appraised value — several thousands of dollars less than the cost to replace it.
Over the years, your other possessions will increase in value, too, not just your jewelry. You might finish your basement or finally buy that plasma TV. So keep in touch with your insurance agent. As your assets grow, you'll need more insurance to protect yourself and your family.
Courtesy of ARAcontent
---