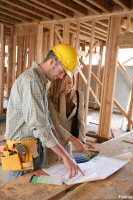 (ARA) – You made some smart decisions about the housing market and now you're sitting pretty in a house with some equity. Or, maybe you've been in your home for a while and the house has equity but is short on modern style and convenience. It may be time to tackle a home project that will improve both resale value and your enjoyment of the house for as long as you live there.
But how do you decide where to put your money? What home improvements will provide the biggest returns in terms of value and comfort? And how should you pay for the improvements? Here are some basic tips for deciding how to spend your home improvement dollars:
'For most people, their home is their single biggest investment. Protect and grow that investment by selecting improvements that will increase the home's resale value,' suggests Matt Wells, a senior vice president for LowerMyBills.com. Kitchen and bath remodels consistently yield high cash returns at resale time. Also, any improvements you make in these rooms will elevate their comfort and convenience for your entire family. In general, real estate experts agree that kitchens and baths are at the top of the list of good home improvement investments.
If you already have a gourmet kitchen and you like your bath the way it is, then consider your family's lifestyle when evaluating other possible home improvements. If you have more children than bedrooms for them or your dining room doubles as a family room and play area, an addition might make sense for you.
Even if you're undertaking the home improvement primarily to boost your own enjoyment of your home, it's important to consider resale value. Remember that potential buyers might not share your tastes and while it may be easy to paint over the bright orange walls of your sunroom, replacing loud tiles or fancy-shaped windows could be a much more expensive fix come resale time.
Do your homework on financing options. A poor financing choice could mean you'll be paying high interest on your home improvement long after the last workman has left your house. Consider a cash-out refinance which allows you to refinance your mortgage for more than you currently owe, leaving cash on the table for you to put towards your improvements. The interest rate on a cash-out refinance is usually lower than what you would get from a credit card. Just remember to be responsible, you don't want to take out so much cash that you put your home at risk. Also, remember to check with your tax advisor because the interest is likely to be tax deductible. Web sites like www.LowerMyBills.com can help you get competitive refinancing quotes.
Even if you don't need to pull cash out, a refinance might still be a wise move. 'Interest rates are still near their lowest point in nearly 40 years,' Wells notes. 'Homeowners who bought their houses a few years ago may be in a good position to refinance at a lower rate and free up more cash each month to put towards improving their investment and their lifestyle.'
To shop for competitive refinancing options, visit www.LowerMyBills.com .
Courtesy of ARAcontent