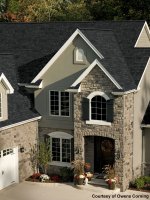 (ARA) – Anyone who owns a car knows that sooner or later you're going to have to replace certain parts. Tires go bald, brake pads wear thin and air filters get clogged. Likewise, your home has certain parts that occasionally need replacing. But rather than shelling out $30 here and $200 there, replacement projects on a home can run into the thousands of dollars — not something you can save for by skipping the lattes or having another garage sale.
Because your roof protects the rest of your home, keeping it functioning properly should be a top priority. And although proper venting and regular maintenance will help it last as long as possible, roof shingles have a finite lifespan and sooner or later will need to be replaced.
According to Remodeling Magazine's annual Cost vs. Value study, the average cost of replacing a roof is $14,276. But just because you don't have that in your rainy day fund doesn't mean you must ignore the dripping ceiling in your kitchen or the unsightly shingles that are the talk of the neighborhood association. Fortunately, homeowners have a number of financing options that won't require tapping into the kids' college funds.
In the past few years, many homeowners have taken advantage of home equity lines of credit (HELOC) issued by banks. These work much like credit cards. After being approved, the lender issues a credit card or checkbook that is used to borrow money against the equity you have in your home. The advantages of a HELOC are that interest rates are usually lower than those of a typical credit card and credit limits are higher. The disadvantages are that your home is used as collateral, and you may not qualify if you do not have enough equity.
Another option is one that doesn't require you to borrow money against your home. Some major roofing shingle manufacturers provide financing programs to their most loyal customers that allow homeowners to replace their roof now and make monthly payments to pay it off. It works like this: you select the brand of roofing material and one of the brand's contractor affiliates to install it. When the roof is completed, you pay back the contractor in monthly installments.
'These credit packages offer one-stop shopping. Customers don't have to deal with the bank and decisions are often made within 24 hours,' says Suzanne Mitchell, contractor marketing manager for Owens Corning, the nation's most recognized roofing brand. 'Best of all, homeowners get a new roof now — when they need it — rather than waiting while more damage occurs.'
Owens Corning's financing partner GE Consumer Finance offers several options that can be tailored to fit the homeowner's needs. Mitchell says GE Consumer Finance provides competitive rates and flexible payment schedules, which allows homeowners who select Owens Corning roofing products to have greater buying power and low minimum payments.
There's even a program specifically for credit-challenged customers. HomePlus Finance helps homeowners secure credit that most other lenders would turn down. Terms are available up to 240 months and, again, credit decisions can be made within 24 hours.
Replacing a roof, like many other home improvements, should be thought of as an investment. The Cost vs. Value study showed that 74 percent — nearly three fourths — of the cost of a new roof can be recouped due to higher resale value of the home. Mitchell says Owens Corning's own research has shown that homes with new roofs have a higher perceived value than those with an older roof and homes with premium shingles have an even higher curb appeal.
'Some home improvements make a home more comfortable or more beautiful. A new roof does all that and is going to protect your most valuable investment for years to come,' says Mitchell.
For more information on Owens Corning's Preferred Contractor Program or to find a Preferred Contractor in your area, visit www.owenscorning.com
Courtesy of ARAcontentWritten for www.RealtyTimescom. Copyright