It's Your Home, Stop Raiding the Piggy Bank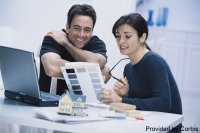 (ARA) – Most Americans dream of owning their homes free and clear someday, part of their retirement nest egg. Yet, for many, this dream gets farther and farther from reality as they break into their home equity piggy banks.
'I am somewhat surprised at the number of our loan applicants, even many of our excellent credit quality customers, who have taken equity out of their homes over the last few years via cash-out refinances or home equity loans,' says Gary Miller, a 25-year veteran of the credit industry and CEO and co-founder of FirstAgain LLC, a financial services company based in San Diego, Calif. 'Now, with larger mortgages and often less equity, particularly with the recent home price depreciation hitting many areas of the country, these people face a longer and more difficult path to debt-free home ownership.'
Before you decide to borrow against your hard earned home equity, consider the following:
Are you using your home equity for something that actually adds value (equity) to your home, such as a remodeling project or a swimming pool or for something important in your life such as a child's education or unexpected medical bills? This can be a prudent way to finance such expenditures. Home equity loan rates are attractive and the interest is usually tax deductible if you itemize. However, if you are using your home equity to finance vacations or pay your bills, think again, as you may be overextending yourself.
Are you using a fixed rate home equity loan with the shortest term you can easily handle? Adjustable rates may make sense for the financially well off (and financially sophisticated) but for most people, a fixed rate and a fixed monthly payment avoid future payment shock and is the better alternative. Paying off your loan sooner obviously builds your home equity more quickly. Think of it as forced savings.
Cash out refinances can make sense if you are improving your overall mortgage terms and using the cash for an appropriate purpose. Again, consider shortening your loan term if possible.
Are you thinking about a home equity line of credit (HELOC)? This product is marketed like a credit card with adjustable teaser rates, ease of use and other incentives, encouraging you to use your home equity for just about anything with long repayment periods. Be careful. Having a HELOC in place may be prudent for certain purposes (for example, a future emergency) if you can be disciplined about not normally using it and pay it down quickly if you do.
If you have excellent credit, you may qualify for an attractively priced unsecured loan that doesn't require pledging the equity in your home. This type of loan, such as FirstAgain's AnythingLoan, offers highly competitive, fixed interest rates and an ease of use not available with mortgage products. Entirely online and paperless, you can apply in the morning and have $10,000 to $100,000 in your account by the afternoon. It takes just minutes versus the days required for a mortgage loan.
'Given the more difficult lending environment caused by the recent sub prime meltdown, home equity products have become both more expensive and more difficult to obtain as lenders tighten their credit criteria and loan to value guidelines,' says Miller. 'Our product represents a great alternative for those with excellent credit who don't have a home equity loan option.'
To learn more about FirstAgain and its AnythingLoan, please visit www.firstagain.com.
Courtesy of ARAcontent