Sidewalks, Trees And Fences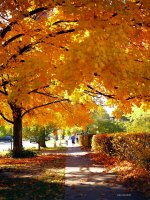 The soft housing market has remanded you to your current home a little longer than you planned.
Perhaps it's a good time to get to know some neighborhood issues you are more and more likely to encounter the longer your remain.
Sidewalks, fences and trees, for instance.
Why?
Rules vary from jurisdiction to jurisdiction and with so many variations, it behooves you to learn what rules apply to you.
Not knowing the rules won't absolve you of liability if someone is injured because you thought your home maintenance responsibilities ended at the front door.
'It is very much dependent on each community as to what your responsibility is and it typically extends beyond your home,' says David Hofmann a San Jose real estate attorney.
Here's what you should know about sidewalks, fences and trees.
Sidewalks
Sidewalk maintenance responsibility typically is spelled out in local ordinances. Most laws say if you are a property owner you must make sure passersby enjoy safe passage across walk ways adjacent to your property line.
The local public works or building department typically will respond to your call for an inspection of a deteriorating sidewalk, pathway or other public easement, but you could have to foot the bill. That includes labor, materials and the cost of any permit to do the work.
Often, in the course of its regular, periodic infrastructure inspections, your jurisdiction will inform you when you need to repair a walkway and give you a deadline. If you miss the deadline, you could be cited, leaving the jurisdiction free to do the work but send you the bill.
You also could be responsible for damage caused by events other than normal wear and tear of the sidewalk material, say tree roots that displace portions of the sidewalk.
Typically, the local arborist or public works department will care for trees that line the street or fill a median on either side of the sidewalk.
If a public works official must remove a tree that's damaging the sidewalk, however, you'll likely have to finish the job and level the sidewalk.
Trees
Speaking of those leafy green plants, it's illegal in a growing number of 'green' conscious cities to cut down trees — in some cases, even on your own property — without prior approval. Fines can be a lot stiffer than the cost of pruning out-of-control tree growth.
Trees on or near your property line pose other dilemmas.
First, if the trunk of a tree is completely within your property boundaries its care is your responsibility.
A tree typically becomes community property shared by adjacent neighbors if the trunk stands on the borderline between the two properties. Then, both or all owners are responsible.
If your neighbor has a tree that has grown branches hanging heavy over your property, those branches could pose a threat to your property, members of your household or others. If so, your neighbor could be liable if limbs snap, fall and damage property or injure someone. The condition also gives you the right to trim your neighbor's tree branches back to the property line.
But here's the Catch 22 — you can't work from the neighbor's yard without his or her permission and you'd better not injure or kill the tree because then you'll be liable.
The same applies to damaging tree roots — you can cut them back, but doing so is often fatal for a tree. Making matters worse, the root shorn tree could fall and injure someone.
Even though you aren't legally required to do so, you should discuss the matter with your neighbor before you cut overhanging branches or troublesome tree roots.
The prune-without-notice approach is likely to generate tension headaches. The neighborly approach is to talk it out.
You should bring up the issue during pruning season when some nips and tucks are least likely to harm the tree.
The experts also say it's a good idea to contact an arborist or experienced tree surgeon before attempting to prune tree limbs or roots or simply let the experts do the job. Then liability for the tree's well-being falls on them.
If there appears to be no way to exorcise the offending branches or roots without harming the tree or the neighbor's feelings, you may have to seek mediation or a legal solution.
You also may have to resort to a little psychology to get your neighbor off the fence about a tree trim. Suggest he or she call their insurance company. The insurer may consider the policy owner negligent if there's a mishap and not cover an incident. Or the policy my have a large deductible for such claims.
In any event, attempt to get the neighbor to see how it will likely be much less expensive for everyone to deal with the tree now rather than wait for it to become an accident.
Fences
The responsibility for fences is somewhat more clear cut because fences have no branches to spread.
When you build a fence on your property, it's your responsibility should it begin to deteriorate and pose a hazard. Fences on a property line shared by two or more neighbors belongs to all those who share the property line and all owners share an equal responsibility for keeping the fence in good repair. Likewise, neither can remove the fence without the others' permissions.
Local fence ordinances regulate the height and location of your fence. Typically you'll be restricted to a fence height of six feet in the back yard and often four feet out front — including natural fences of bushes or trees — if any fence at all.
Typically only a special zoning variance will get you a higher fence, say to shield your property from commercial operations or other disturbing activity.
There's little you can do about legal fences that don't meet your personal standards for aesthetics as long as the fence doesn't pose a hazard and it's not on your property. However, some communities will restrict the materials you can use, the type of fence you can build and, in the front yard, denote set-back requirements.
For more information consider legal self-help publisher's 'Neighbor Law: Fences, Trees, Boundaries & Noise' (Nolo.com $26.99) available in paperback and as an e-book. Likewise available from Nolo, 'Your Little Legal Companion: Helpful Advice for Life's Big Events' (Nolo $9.95) contains some related information.
For a website that can help you zero in on your jurisdiction's rules, try Findlaw.com's 'Neighbors' section.
Written for www.RealtyTimescom. Copyright