Refinancing Online Provides Opportunities for Homeowners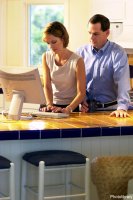 (ARA) – Homeowners refinance for a variety of reasons including to take cash out of their home equity to make home improvements, to consolidate debt, and to move from an adjustable-rate mortgage to a predictable, fixed-rate mortgage. Depending on the current interest rate, many homeowners who refinance may save money on their monthly mortgage payment, or even adjust their mortgage to shorten the term (on the length) of the loan.
As more and more consumers head online to shop for a variety of products and services, shopping online to refinance a mortgage has become commonplace. The ease and convenience of gathering information and applying for a refinance at any time of day or night is perhaps the biggest reason time-crunched Americans have been flocking to the Web.
'Refinancing online often makes the process much more simple and certainly more convenient,' says Frank Destra, managing director and senior vice president of national sales for Internet lender, Ditech. 'The convenience of shopping for a mortgage directly from your home or office, on your own time, is one of the primary reasons there has been an increased demand for online lenders. Many people conduct all of their financial transactions online already, so 'why not get your mortgage online too?' seems to be a much more common attitude.'
Another benefit of refinancing online is that many mortgage lenders' Web sites have a wealth of free educational information available to help you learn about the overall refinancing process. You will find articles and tools that may help you decide if refinancing might be a good option. For example, Ditech has a refinance calculator that can help determine how many months you will need to live in your home to recoup the cost of refinancing.
So what are some of the refinancing options you might want to consider before you boot up the computer? Consider this:
A fixed-rate mortgage has an interest rate that stays the same throughout the entire life of the loan, so your monthly mortgage payment of principal and interest will not rise in the future. Refinancing from an adjustable-rate mortgage into a fixed-rate mortgage may provide you with peace of mind knowing that your new interest rate will not reset to a higher rate.
Roll-down refinancing allows you to include the refinancing fees in the mortgage, so you will not have to pay costs up front.
Cash-out refinancing allows homeowners with enough equity in their home to take out cash when they refinance to pay for other expenses such as a wedding, college or a home remodeling project, or possibly even to invest.
A 15-year or 20-year fixed-rate mortgage will shorten the life of your loan, and may allow you to get a lower mortgage rate, but your monthly mortgage payment will be higher than with a 30-year fixed-rate mortgage.
Refinancing with a traditional 30-year mortgage, will help reduce the monthly mortgage payment by extending the term of your current loan.
As you consider refinancing your home, be sure to check out the convenient and competitive options that may be available to you from online mortgage lenders. Your next mortgage may be only a click away.
To learn more about refinancing, visit www.ditech.com or call Ditech at (800) 715-3483.
Courtesy of ARAcontent