Reducing Title And Escrow Fees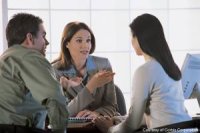 When it comes to a home transaction, virtually everything is negotiable. Haggle like a demon and quibble all the way, and don't forget to sweat the 'small' stuff. While you are dickering over the big picture — the appraisal, comparative market analyses, concessions and repairs — get tough on title and escrow costs too.
All the expenses associated with title and escrow costs from tiny recording fees to title insurance premiums can add up to thousands of dollars, and those fees can vary widely from one company to another.
In an even market, local custom dictates who pays for what, but when the market swings in favor of the buyer or the seller, dumping title and insurance costs on the other party is obviously the best way to go.
Title companies are hired, in part, to issue title insurance protection for home buyers and lenders. The company investigates the title to make sure it is clear of any encumbrances, such as liens or judgments; forgeries or fraud and any other title anomalies and then issues a policy to protect you from claims that turn up later. They rarely do, but you have to pay for the search.
Escrow services provide a neutral third party through which is funneled the paperwork, money, transaction instructions and other details of a home purchase or mortgage refinance. The companies hold onto, and then exchange, disburse and transfer deeds, other documents and monies related to the transaction.
In some areas escrow attorneys provide the escrow service, but in any event the two services, as title and escrow, are often purchased as a package.
The services come into play during the 'closing' period of real estate transactions when the two parties come together to seal the deal.
Here are some tips to get the best title and escrow services for the best price.
Educate yourself. The title industry's American Land Title Association, its state affiliates, the American Escrow Association and your state's regulatory offices for title and escrow services provide consumer information. If you seek more independent insight, consider Sandy Gadow's mother-of -all-title-and-escrow-books 'The Complete Guide To Your Real Estate Closing' (McGraw Hill $19.95), a model guide to title, escrow and other closing issues. Gadow's consumer-friendly partner Web site EscrowHelp.com is likewise loaded with insight.
Before hiring title or escrow services, obtain several referrals from those you trust, family, friends, co-workers, real estate agents and others who've recently closed a satisfactory escrow.
Ask for a referral to the title or escrow officer, not the company. The officer should be familiar with the type of home you are selling, especially if it's a condo or other multiplex home, an older historic home or other special house.
The escrow office should be conveniently located or able to tap branches near you. Saving time saves money, especially when you factor in the cost of gasoline.
Consider a professional who is patient, exacting and willing to give you the time and information you need to understand escrow.
Compare the costs of different escrow and title companies before agreeing to use one. Fees can and do vary widely. Ask for EACH AND EVERY escrow cost from title insurance and search and escrow service fees to all the little, so-called 'garbage fees' that crop up in escrow.
Be aware of and ask for discounts. Refinance-related discounts may be available when the loan being refinanced is relatively new, or only a few years old. Likewise, if you stick with the same lender and title and escrow service, discounts may be available.
Be sure when you complete an application for a loan you get settlement costs and good faith estimate information. Federal law requires the lender or mortgage broker deliver these documents to you within three days of receiving the application. Costs on the good faith estimate and final settlement sheet are not only title insurance and escrow related fees, but a host of other costs for the mortgage, insurance and taxes among others.
Remember, the good faith estimate is only an estimate. For example, the lender may not know the costs for a escrow agent or title company that you use, or the exact amount that will be collected for title insurance and other costs not levied by the lender.
To avoid surprises, let the lender and settlement agent (escrow or title company) know that you will want to see the settlement statement one day in advance and that you won't be rushed on closing day.
Compare the good faith estimate with the settlement statement and, if necessary, contact the lender as well as the title/escrow company, to demand that they explain any differences. Ask the lender, title or escrow companies to waive any fees that were not listed in the good-faith estimate and they can't explain to your satisfaction. Get an acceptable explanation why it wasn't on the original statement.
On closing day, come prepared with plenty of time, pencil, paper, a calculator, and an inquisitive, demanding mind. You are allowed to have your representative — a real estate agent, mortgage counselor or other professional — attend closing with you. If a real estate agent is involved in the deal he or she should accompany you. It's one of the services their commission provides. It's also their job to see that the deal closes in a satisfactory manner.

Written by Broderick Perkins for www.RealtyTimescom. Copyright