Where Home Sellers Can Find Security and Save Money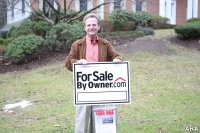 (ARA) – The headlines coming out of today's real estate market are enough to give any homeowner pause – but especially hard hit have been home sellers.
Many sellers are daunted by the prospect of cutting through the maze of negative data, finding the right way to sell their home quickly and easily – while retaining as much equity as possible. Add to that the stacks of paperwork and other obstacles when selling a home with a real estate agent, and the process can seem almost out of control.
Many have found a solution in buying and selling homes online, without the services of an agent.'My wife and I had our house listed with a real estate agent for seven months without any success,' says Matthew Baugh of Chattanooga, Tenn.
When their listing agreement was up, Matthew and his wife decided to sell their home themselves with the help of ForSaleByOwner.com, the nation's leading 'for sale by owner' Web site. 'Agents told us that our market was down and selling it ourselves would be impossible,' he says. 'But on the 28th day of posting our home on the Web site, we signed a sales agreement for above the asking price. We did in less than a month what an agent couldn't do in seven months. Selling ourselves allowed us to control how our house was showed and described to buyers. This was a major reason our house sold.'
The Baughs are not alone. According to Greg Healy, vice president of operations for ForSalebyOwner.com, in the current market environment it's important not just to sell a home quickly, but also to sell cost-effectively, and with maximum control over the sales process.
'In this stressed environment, it's critical both home sellers and buyers understand they control the selling and buying process to benefit their needs, not for the benefit of an agent or other real estate provider,' says Healy.
In fact, studies have shown that when consumers control the sale of their homes, they do at least as well as agents in the maximizing the sale price and retaining more of the equity in their home.
For sellers who wish to do so, ForSaleByOwner.com can also put homes on the Multiple Listing Service (MLS), just as an agent would. This can help speed up the sales process.
There are other benefits to selling on your own. For example, in a typical home sale, the paperwork is done by lawyers or a title company, rather than by an agent. That means most of the value delivered for an agent's six percent is showing the home and holding open houses, which can easily be done by the home owner. If the owner of $300,000 home sells the home on his or her own, that could mean a savings of $18,000.
To help consumers understand what they should expect and demand when they buy and sell a home, whether using an agent or not, ForSaleByOwner.com is introducing a new Consumer's Bill of Rights.The full list of Consumer Rights will be announced shortly and will include: The Right to sell with or without a real estate agent; the Right to have full access to comparative data on home prices, and the Right to avoid unwanted solicitations from real estate providers who may not have the consumer's best interest at heart.
Having a Bill of Rights should advance the cause of home sellers and buyers a great deal, notes Healy. 'Selling a home does not have to be a tricky, or stressful experience,' he concludes. 'Information is power, and the more of it you have, the better deal you are likely to make.'
Visit http://www.ForSaleByOwner.com/info to learn more about selling or buying a home online.
Courtesy of ARAcontent