Smart Strategies for Removing Bad Debt and Stress from Your Life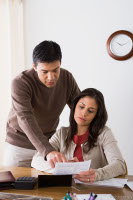 (ARA) – Given the current economy, it is no surprise that Americans are stressed out about making ends meet, which is affecting their work and personal relationships. Nevertheless, many are optimistic and say they are committed to persevering with their personal finances, according to a new survey.
The Western Union Money Mindset Survey, taken in August, shows consumers are taking steps to manage their bill payments so they can pay on time and reduce their stress. For example, one in four (25 percent) have cut recreational activities (gym memberships, sports gear) and nearly three out of four (72 percent) have cut back on dining out.
'Americans have worked too hard to save their money and pursue their goals, and they are not going to just give up. Many people are wisely scaling back their budgets and seeking solutions that will greatly improve their situations,' says David Shapiro, senior vice president at Western Union. 'Only 4 percent of people who believe their situation is going to get worse feel that declaring bankruptcy or defaulting on debt will help. To improve their situations, many are looking for a new, better-paying job or a second job to keep up with their bills.'
One in five Americans is paying bills late, the survey shows, and 31 percent of those surveyed were waiting longer to pay, racking up late fees and risking good credit standing.
Bad debt isn't healthy for individuals or the people close to them. And some choices made to correct bad debt, such as withdrawing from a 401(k) account to make bill payments, can lead to bigger issues, impacting future financial activities like obtaining loans for mortgages and cars or getting a job.
Here are some tips to help people avoid and reduce debt:
Start or revise a monthly budget — Use calculators at www.BankRate.com to determine if your mortgage should be refinanced or if your money market account is earning interest that can help you build up savings or pay your bills off faster. Visit www.financialplan.com to download a budget tracker as a monthly guide for managing your money. You can also examine your expenses and see what you can cut back.
Start an emergency fund — Finance experts recommend having between three and six months of your budget stored in a savings account in preparation for unplanned events like losing a job, needing emergency medical help or treatment for a long-term illness. Try to cut back on entertainment activities so you can be ready for that last-minute car repair.
Arrange automatic payments — Having your rent or mortgage payment, utility bill or telephone bill automatically withdrawn on a designated day of the month helps you plan your finances better, maintain your cash flow and avoid late payment fees.
Explore all payment options — For instance, consider paying the bill on the day it's due by going to a Western Union Agent location and paying in cash. Ask your bank or biller to explain all of the bill payment options available.
Negotiate rates — Contact your telecom provider to see if you can reduce your monthly bill payment by bundling your phone, Internet and cable services. Call your credit card company and see if you can get a lower interest rate. Research credit cards with the lowest rates by visiting www.cardratings.com.
Winterize your home — Insulate your windows, doors and pipes for energy efficiency. Visit your local energy provider for tips and check Web sites such as www.csd.ca.gov and www.acf.hhs.gov.

Courtesy of ARAcontent