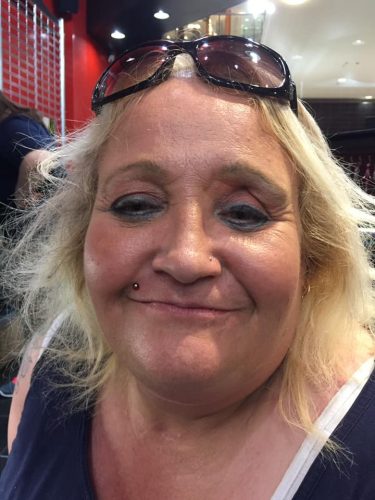 Eleanor I. Funaro, of Sonora, CA, was born on August 24, 1965 in San Francisco, CA and passed away on October 31, 2021 in Sonora, CA. Eleanor grew up in the Bay Area with her parents and her four siblings. She decided to pursue a career in the medical field after a car accident she was in when she was 20 because she wanted to make a difference in the lives of others. She worked as a Certified Nursing Assistant for many years and later pursued her Medical Assistant certificate. Taking care of people was very rewarding to her. She loved her job, and her patients meant the world to her. She graduated from Meric College where she obtained her Medical Assistant Certification in 2005 and completed her externship at Tuolumne General Hospital where she was later hired onto.
On April 9, 1986 in Reno, NV, she married the love of her life, John J. Funaro Jr. and in 1990, the couple moved to Jamestown, CA.
She loved music, mostly heavy metal, and some of her favorite bands were Disturbed, Insane Clown Posse, Slipknot, Ozzy Osborne, and Led Zeppelin. She enjoyed going to concerts, getting tattoos, and piercings. Spending time with her family is what she loved to do most. Being a mother and a grandmother brought her so much joy. She truly loved life and lived to the fullest.
She is preceded in death by her husband John Funaro Jr.; father, Leonard Williams Sr.; mother, Diane Williams; son-in-law, Randy Morgan; and daughter-in-law, Paula Crye. She is survived by her four adult children, Melissa Troxell, Jessica Crye, Stephanie Funaro, and John Funaro III as well as their life partners, JB Troxell, David Crye, and Nelson Pinheiro; three grandchildren, Sofia Funaro, Conrad Crye, and William Korben Troxell; four siblings, Pauline Williams, Leonard Williams Jr., Larry Williams, and Jennifer Grissom as well as their life partners, Ann Anderson, Ariana Mann, and Kevin Grissom; nephew, Patrick Grissom; and her niece, Colleen Grissom.
If you feel compelled to donate to help with her arrangements and service, please send donations to my Venmo: @Stephanie-Funaro or visit my GoFundMe link at https://gofund.me/a30ffe65 Thank you.
Date of Death: 11/01/2021
Age: 56
Residence: Jamestown, CA
Services: A private service will be held. Details are still being determined. Arrangements entrusted to Sierra Cremation & Burial Service.