Roadwork On Highway 49, 108, and 120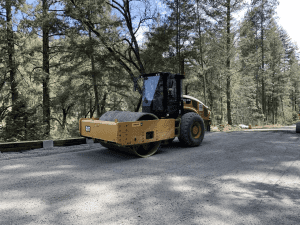 Hwy 26 roadway rebuilding operations along stretch damaged by Feb. 14 2019 storm thta closed a stretch of the route

View Photos
Caltrans has several areas of road work  planned. The detailed schedule of work below may change due to weather, traffic, availability of equipment, and other issues.
On Highway 49 from Frogtown Road to Poole Station Road there will be a moving closure of one lane to allow for road striping. Expect delays for 10 minutes Monday through Thursday from 8:30AM to 4PM.
As reported Caltrans is installing rumble strips along 27 miles of Highway 108 in Tuolumne County. The project will wrap up sometime this summer. The overnight work starts Sunday through Friday from 8 PM until 6 AM. They will be putting up temporary cement barriers at Woods Creek Bridge as part of the project this week. Daytime hours will be in place for the Twain Harte to Strawberry section with the hours of operation from 6 AM to 6 PM weekdays, with Friday's shift ending at 3 PM to free the roads for weekend visitors. The three locations are:
From HWY 49/108 junction (Stockton Street intersection) to Draper Mine Road, about 6 miles
A half-mile west of Twain Harte Drive and Tuolumne Road North intersection to Stoddard Springs, about 12 miles
From Bald Mountain Heliport Road to a half-mile west of Herring Creek Lane in the Strawberry area, about 9 miles
Caltrans also warns Monday through Friday there will be areas of one-way traffic control for shoulder work from Chinese Camp all the way to the Highway 49 Stevenot Bridge over New Melones. The work is scheduled to begin each morning at 7:30 AM and end at 3:30 PM causing 10 minute delays.
On Highway 120 expect to see slope repair and clearing that will limit traffic to one-way Monday through Friday from 7AM to 7PM. There will also be work from the South Fork Toulumne Bridge to Golden Arrow Road. Both areas of slope repair may cause 10 minute delays.
On Highway 49, at the Sonora Creek Bridge, be aware of work on the road's shoulder. The long-term shoulder work began April 3 and is scheduled through April 30.
Plans for midsummer bridge work are detailed here. Details on the Yosemite Junction Improvement Project are here. Details from Calaveras County Public Works officials about the storm damaged Independence Road are here.
Also be aware that Tuolumne County will be out on local roads spraying as covered in the news story Weeds Be Gone In Tuolumne County.
Highway 26 from West Point Powerhouse Road to Joyce Road watch for left shoulder work that may cause delays. The work is scheduled for Monday, the April 29 from 7AM to 4PM.