Polystyrene Collection Returns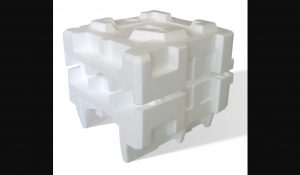 User:Acdx, CC BY-SA 3.0 , via Wikimedia Commons

View Photo
Do you shop online? Do your purchases arrive packed in white polystyrene foam? UCCE Central Sierra Master Gardeners of Tuolumne County hope that you've been hanging on to that stuff, because we are once again collecting "styrofoam" in mid-March in order to keep it out of the landfill.
Styrofoam, a trade-marked Dow Chemical Company product is EXTRUDED polystyrene foam, usually blue, and used in construction. Colloquially, the term "styrofoam" is used worldwide to refer to packaging material that is usually white and is EXPANDED (not extruded) polystyrene, also known as EPS foam.
Polystyrene foam is a problem. Extremely lightweight, but bulky, it is not accepted in residential recycling containers. Brittle and easily broken into tiny pieces, it's considered a "contaminant." As you've probably experienced, the tiny plastic particles stick to everything, are difficult to contain, and can be carried on the wind. Expanded polystyrene does not biodegrade and can contribute to microplastic pollution contaminating air, land, waterways, and food systems.
Several states have banned EPS foam. In 2020 New York State enacted the nation's strictest ban including packing peanuts and food service containers. The State of Washington will ban packing peanuts effective June of 2023, with food service containers being banned in 2024. Cities and counties are following suit. Los Angeles City Council has voted to ban the sale and distribution of EPS foam products starting in April 2023.
Drop off your polystyrene on Saturday, March 18, 9am to 4pm, and Sunday, March 19, 10am to 2pm. The drop-off site is located on Microtronics Way near the exit to the Waste Management buy-back recycling center located on Camage Avenue in Sonora, California. We are accepting packing-grade polystyrene (used for shipping items such as electronics) and CLEAN, colored and white polystyrene food containers. Food containers MUST be washed! Please remove any tape, tags, labels, etc. from polystyrene packaging and separate food-grade containers from packing-grade polystyrene.
Packing peanuts are usually not polystyrene; often now, they are produced from corn starch and are water-soluble or compostable. Master Gardeners are unable to accept packing peanuts. If you cannot reuse, dissolve or compost them, take them to a UPS Store or to Pac-N-Copy in the Junction Shopping Center.
Safety protocols will be followed during the collection event. Vehicles line up single-file in a drive-through drop-off area marked by traffic cones. Master Gardener volunteers will remove polystyrene from your vehicle. Most clients do not need to exit their cars.
If you aren't able to participate in Polystyrene Collection Days, you can drop off polystyrene at the following two locations:
Dart Container Corporation, (209) 333-8088, 1400 E. Victor Road, in Lodi, accepts polystyrene 24 hours a day. Their drop-off bin is located close to Highway 12.
Foam Fabricators, (209) 523-7002, 301 9th Street, Building B, in Modesto, (http://www.foamfabricatorsinc.com/) accepts expanded polystyrene Monday through Thursday 7am through 3pm; Friday from 7am to 1pm. When you arrive at their facility, please call their phone number and someone will meet you at their gate to accept the expanded polystyrene.
Master Gardeners sincerely thank you for keeping polystyrene out of the landfill. We look forward to seeing you on March 18th or 19th.
Rebecca Miller-Cripps is a University of California Cooperative Extension Master Gardener of Tuolumne County.