Three Arrested After Chase Through Three Communities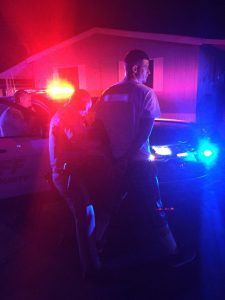 Jamestown chase and arrest of three men

View Photos
Jamestown, CA — Three men are behind bars for leading deputies on a chase beginning in Jamestown and ending in Sonora, while the suspects tossed drugs from the vehicles.
The incident happened around 1:30 a.m. Saturday when Tuolumne County Sheriff's deputies tried to pull over a 2002 Dodge truck for driving erratically on Jamestown Road.  Instead, the driver took off and the deputies gave chase. After about four miles the pickup came to a screeching halt in front of the Twin Pines Mobile Home Park on Wigwam Road and two male passengers jumped out.  Both were quickly taken into custody. The driver sped off sparking another nearly four mile chase on Jamestown Road towards Columbia, which ended when the drive stopped at the Sonora Mobile Estates on South Airport Road.
While in hot pursuit, deputies saw the suspects throw something from the vehicle that turned out to contain narcotics, including 5.1 grams of heroin, 2.4 grams of methamphetamine, a hypodermic needle and evidence of drug sales.  A search of the driver netted $877, which was later seized as evidence of drug sales.  He is Kevin Sovereen, 34, a transient. He faces several felony charges of possession of a controlled substance for sale, transportation of a controlled substance, possession of drug paraphernalia, driving on a suspended license, and evasion of a peace officer. Sovereen also had a felony warrant against him for transportation of a controlled substance, evading peace officer with disregard for safety, and violation of post release community supervision. He remains in jail on a no bail status.
Sovereen's passengers, Justin King, 35, and Gregory Meder, 36, both transients were also at the Tuolumne County Jail where Meder was booked for felony warrant for possession of a controlled substance, possession of a controlled substance for sale, and possession of controlled substance paraphernalia and King on a misdemeanor warrant for possession of a controlled substance and a failure to appear.
Meder's bail is $30,000 and King's is $10,000.
Notably, as previously reported earlier this year, all three men had run-ins with the law. Meder was busted by law enforcement after he led deputies on a chase along Tuolumne Road and dumped a stash of drugs, according to sheriff's officials.  King was hauled in with two others after a search of a Sonora apartment netted narcotics. Sovereen has several arrest all related to drugs dating back to 2007 when found to be driving under the influence.  Another chase with deputies in 2013 on a motorcycle and in 2016 he was arrested after a vehicle search uncovered meth, a scale and paraphernalia.