Budget Presentation 2019/2020
We commit to providing exceptional public service that: Creates a healthy and safe community, Exercises natural, cultural and financial resource stewardship, Promotes economic prosperity, and Enhances quality of life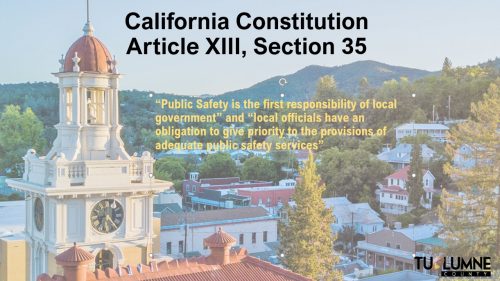 General Fund projected deficit of $3,700,000
Fire Fund projected deficit of $500,000
Needed a combination of increased revenues and decreased appropriations that totaled $4,200,000
Change from Prior Year Adopted
 
Adopted
FY 2018/19
 Adopted
FY 2019/20
Change
Percent
General Fund
79,215,635
81,102,929
1,887,294
2.4%
 
Governmental
217,784,461
184,399,509
(33,384,952)
-15.3%
Enterprise Funds
7,992,840
8,589,777
596,937
7.5%
Internal Service Funds
19,637,296
19,005,514
(631,782)
-3.2%
All Budgeted Funds
245,414,597
211,994,799
(33,419,798)
-13.6%
Permanent Employees
(all funds)
638.28
656.20
17.92
2.8%
Reorganization and Restructure of Community Resources Agency
Reorganization of Recreation and Library Services
Elimination of General Services Agency
Reorganization within Sheriff's Office
Personnel changes in the District Attorney office
Personnel changes in the Probation Department and Juvenile Hall
Early retirement program
Net change all funds added 3.0 FTE
General Fund net change reduced -9.98 FTE (excludes addition of 9 for the new jail and two grant funded probation techs)
Most notable reductions are being recognized through the reorganization of the CRA.
One-time Revenue from AB109 to fund Jail Deputies for Transition into New Jail
New Fee Structure for Recreation Services and Hall Rentals
Contract with CALFIRE is at estimated costs
Actions that Comply with Policies:
Balance annual operating budgets without the use of onetime revenues.
Dedicate unobligated/available beginning fund balance to:

1) establish annual contingencies
2) pay-off County Debts
3) increase reserves
4) fund future liabilities
5) fund capital equipment, plant and infrastructure needs.

Non-earmarked general fund contingencies should be budgeted at no less than 1% of general fund budget.
Prioritize funding for public safety and road maintenance services
Maintain a comprehensive quarterly budget monitoring and reporting program.
Match specific State and Federal funding reductions with commensurate cuts in specific program expenses.
Actions that Substantially Comply with Policies:
Establish general reserves at 5% of the total operating budget for governmental funds, annual minimum contribution of $250,000
Strive toward fully funding future liabilities
Actions that Partially Comply with Policies:
Strive to provide funding to adequately maintain plant and infrastructure
Continue an active long term capital improvement program which includes a section describing finance methods
Use of Beginning Fund Balance
| | |
| --- | --- |
| Beginning Fund Balance |   $3,192,909 |
| Contingencies |   $1,053,000 |
| Reserves |   $  250,000 |
| Pay off Juvenile Det. Facility Debt |   $  506,000 |
| Additional Transfer out to Fire |   $1,226,000 |
| Purchase of Vehicles/Equipment |   $  157,909 |
| Total |   $3,192,909 |
Historical Transfers out to Fire
| | |
| --- | --- |
| FY 2011-12 | $438,761 |
| FY 2012-13 | $220,895 |
| FY 2013-14 | $350,000 |
| FY 2014-15 | $450,000 |
| FY 2015-16 | $450,000 |
| FY 2016-17 | $450,000 |
| FY 2017-18 | $348,000 |
| FY 2018-19 | $520,306 |
| FY 2019-20 | $1,676,000 |
| | |
| --- | --- |
| Debt Payments | ($   781,000) |
| IT Software/Hardware | ($   700,000) |
| Total | ($1,481,000) |
| PERS Fixed Payment | $1,000,000 |
| S&B | $1,500,000 |
| Jail | $1,500,000 |
| County Facility Payment- Court | $   200,000 |
| Total | $4,200,000 |
| Net Shortage FY 2020-21 | $2,719,000 |
*Does not account for any increase in revenues
Maintains all core County services
Balances ongoing General Fund expenses solely with ongoing revenues
Provides $250,000 to continue building back the County's General Reserves
Fully funds General Fund Contingences at $810,000
Provides a sound foundation for developing future year budgets
Provides for transition into the new Jail Facility
Contributes $700,000 to Fire fund for the purchase of a new Fire Engine