Mushroom and Onion Dutch Baby
Category: Appetizer, Main Dish
Submitted By:
Town/State: Sonora, CA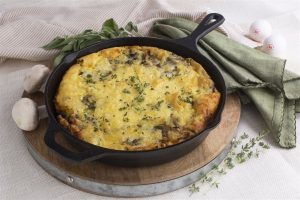 Serves: 6
Preparation Time: 40 minutes
Total Cooking time: 20 minutes
(BPT) – As the days shorten and the weather turns chillier, absorbing vitamin D from the sun becomes more challenging. Why does that matter? Less vitamin D can lead to a weakened immune system, fatigue, joint pain and even impaired wound healing. Essentially, vitamin D helps your whole system run better. Eggs are a great option for vitamin D, but keep in mind that not all eggs are created equal. Eggland's Best eggs contain six times more vitamin D and 25% less saturated fat than ordinary eggs.
| Amount | Measure | Ingredients |
| --- | --- | --- |
| 8 | Tbsp | butter |
| 1 | medium | onion, diced |
| 8 | oz | button mushrooms, sliced |
| 5 | large | Eggland's Best eggs |
| 1 ¼ | cup | whole milk |
| 1 ¼ | cup | all-purpose flour |
| 1 ½ | tsp | salt |
| 1 ¼ | tsp | white pepper |
| 1 | cup | grated aged Gouda cheese |
| 2 | Tbsp | chopped fresh thyme |
| 2 | Tbsp | chopped fresh sage |
To prepare:
Preheat oven to 425°F.
In a large sauté pan, melt 2 tablespoons of butter over medium heat and cook for 2-3 minutes until melted and foamy.
Add onions and cook, stirring for 2-3 minutes until they begin to soften.
Add the herbs, then stir in the mushrooms and cook for another 3-5 minutes until they are browned and softened as well. Remove from heat.
Put the Eggland's Best eggs, milk, flour, salt and pepper into a blender and blend at high speed for about a minute.
Stop, scrape down the sides with a rubber spatula, and blend for another 30 seconds.
Place the remaining 6 tablespoons of butter into a 12-inch cast iron skillet and put the pan into the oven.
Wait until the butter is completely melted and bubbling, then carefully take the pan out and swirl the butter around to make sure the pan is coated.
Spread the onions and mushrooms on the bottom of the cast iron skillet. Pour the egg and flour mixture on top.
Finally, sprinkle cheese all over and put back into the oven for 20 minutes, until browned on top. The pancake will puff up as it bakes.
When finished, take the Dutch baby out of the oven.
You can scatter more sage and thyme across the top, if you desire.
For a more decadent touch, melt a tablespoon of herb butter on top of the pancake as soon as it leaves the oven.