Trails in the Mother Lode
The Sierra Nevada Foothills has some of the most spectacular and beautiful hikes in the country, if not the planet. From Yosemite's Half Dome to waterfalls to lakes to caves, we've got thousands of acres of beautiful country to explore. Below are some of the most popular trails. If you are staying overnight or like backpacking here is a list of items to take.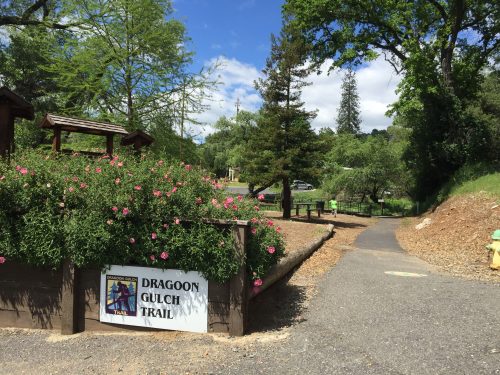 Dragoon Gulch
Dragoon Gulch, Sonora, CA, United States
Columbia College Trails
More about Columbia College
Tuolumne Railroad Trail
West Side Trail
Lyons Dam
Trail to Lyons Dam
Mokelumne Coast to Crest Trail


Mokelumne Coast to Crest Trail

Mokelumne Coast to Crest Trail

Natural Bridges


More about Natural Bridges and New Melones here.

Natural Bridges

Table Mountain BLM hike
New Melones and Table Mountain details here

Table Mountain Trail/Grotto Climbing 1st parking area

Parrotts Ferry New Melones BLM hike
Parrotts Ferry New Melones BLM hike
Red Hills
More about Red Hills

New Melones and Glory Hole details here
Pinecrest Trail
More about Pinecrest Hiking

Pine Crest Trail

Big Trees
Big Trees Trail Info

Calaveras Big Trees / South Loop Mountain Bike Trail details
Day Hikes in Yosemite
Yosemite hiking overview
Dragoon Gulch Trail
Located in the City of Sonora, the Dragoon Gulch Trail provides its visitors with a unique opportunity to stroll through the Mother Lode's oak woodlands. The Dragoon Gulch Trail is a system of trails creating a 2 ½ mile loop. The trails travel along a natural creek up to the vista that provides a spectacular view of the City and its surrounding mountain ranges. The trails vary in difficulty making it perfect for the casual walker and for those who want a strenuous hike or jog.
Lyons Dam Railroad Grade Trail
This is a easy to medium ride on railroad grade, five miles to the dam from starting gate on South Fork/Confidence Road. Also excellent for family hiking, bring a picnic and enjoy the views of Lyons Reservoir.
Mt. Elizabeth to Cedar Ridge
A shady and tranquil trail that meanders along what the locals call the "ditch". The man-made ditch runs throughout Tuolumne County and is our local waterway that feeds from the lakes and reservoirs.
Slick Rock Ride Mountain Bike Trail
You can begin on a hiking trail that is a portion of the Old Emigrant Road, then traverse a lengthy section of very rough 4 WD road past Slick Rock and onto gravel and newly paved portions of forest roads, then back up Highway 4 through Bear Valley. This route will take you over twenty-two miles. The scenery is majestic, as the elevations range from 7,800 feet on Osborn Hill to 6,400 feet near the Stanislaus River. Normally open early summer through mid-fall, there are great swimming holes in the Slick Rock area, and splendid views across Utica Reservoir.
Sugar Pine Railway - Strawberry Branch
This trail follows the historic Sugar Pine Railway. It is lined with interpretive signs keyed to a brochure that describes the logging operations that were carried out here in the early and mid-1900s. A moderate bike ride, bring food and water and you can picnic along the route. The trail can be used year-round. Hiking and mountain biking are best in the spring, summer, and fall; you man cross-county ski on the trail during the winter months when snow permits.
Go two and a half miles on Stanislaus Forest Road 4N01 the Trailhead is on the right (east) side of the road before you cross the bridge over the South Fork of the Stanislaus River. Winter: California 108 to Old Strawberry Road, which is about 2 miles east of the turnoff to Fraser Flat. Turn left (north) on Old Strawberry road, and go about 2 miles to the trailhead, which is on the left (west) side of the road and is marked by a couple of posts that can be difficult to see from the roadway.
Some of the areas between Twain Harte and Lyons Dam are private property. Trail users, please respect this private property and keep to the trail.
Tuolumne Railroad Grade
West Side Rails: Tuolumne City to North Fork/ Tuolumne River
The Westside Railroad Trail begins at Miramonte subdivision on Cottonwood Road, one mile east of downtown Tuolumne City. The trail overlooks the Tuolumne River Canyon.
This is a beautiful ride in spring; all of the wild flowers are in bloom! Nice easy railroad grade for hiking on the upper end or you can mountain bike all the way down to the river and back up (straight up!) Buchanen Mine Road.
Mokelumne Coast to Crest Trail
The Mokelumne Coast to Crest Trail (MCCT) will be a scenic non-motorized, multi-user trail corridor extending from the Pacific Ocean near San Francisco Bay to the crest of the Sierra Nevada Mountains. Martinez Shoreline Regional Park in western Contra Costa County and the Pacific Crest Trail at Ebbetts Pass in the High Sierra form the western and eastern anchor points. myMotherlode reported on a "Ride To Benefit Mokelumne Coast To Crest Trail" to view the article click here.
Remember:
Bikes are not allowed to travel off-trail, on unpaved trails, or in wilderness areas. Mountain biking opportunities are available in designated areas outside of Yosemite. Helmets are required in park for all riders under 18 (CA law), but are provided free with rentals.
If you want to stay in the Mother Lode take a look our list of places to stay.
Planning a wedding, conference or other event? Take a look our list of places to host your event.
Tell us about your experience at this place! Contact Us