SRT's The Little Mermaid Makes A Splash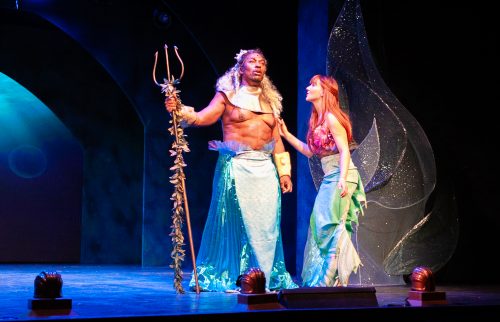 Columbia, CA — During this whirl of school graduations, summer visitors and surging heat comes Sierra Rep's production of Disney's The Little Mermaid, a welcome concoction to delight all ages.
The show, which opened last Saturday at Columbia State Park's Fallon House Theatre, plays through July 17 with plenty of family-friendly matinees in addition to evening performances.
The Hans Christian Anderson tale turned Disney classic, evolved into a Broadway musical that, retooled after its initial Broadway run, re-emerged for an International tour in 2012. Since then, this latest version has continued to delight audiences around the world. In addition to a few new catchy songs, local audiences are bound to be wowed by the production's impressive convergence of talent both in its all-ages cast and compelling stagecraft.
Sierra Rep's Associate Artistic Director Jerry Lee shares, "We wanted to [provide] something that hits every generation…a classic story like this that everyone can enjoy together. We bring in a ton of talent from all over the country, and it is something we are very proud of." Actors and theatre pros in the production come from New York, L.A., Tennessee, Georgia, Tuolumne County, and other parts of California.
Wow, That Mermaid Can Sing
All the main characters have quite credible to downright amazing pipes. As Lee admits, it was essential to cast a spritely actor with a sterling voice for the title role. "We pretty much nailed it with Abigail [Campbell]." Trained in New York City, Campbell lives in the Bay Area and played Sister Mary Robert in the Theater Bay Award winning Sister Act. As the littlest of King Triton's seven daughters, Campbell gracefully commands the stage with her soaring vocals and blithe moves.
As Ursula the Sea Witch and the production's Hair and Make-Up Designer, Brenda O'Brien truly slays. Deliciously devilish at the onset, her villainous countenance grows along with her evil acts. You may remember O'Brien as Tanya, the over the top of the three "bestie" friends in SRT's production of Mamma Mia a few years back. The design of her own look along with that of the rest of the cast is masterful; evidence that her 25 years on Broadway pin for her work on Disney's Beauty and the Beast, Les Misérables, Jekyll & Hyde, and Disney's The Lion King continues to be well-earned.
Making his West coast debut in the show, actor Justin Burr fills the bill as the handsome, dreamy Prince Eric. Another actor appearing for the first time with SRT is Fresno-based actor Kaylene Howard, who, in a googly-eyed red top hat and ringmaster garb brings sparkle and warm Jamaican spice tones to her turn as Sebastian the Crab.
In the role of King Triton (and in a dual role of the Pilot of Prince Eric's ship), Sincée J. Daniels exudes a warm visual and reverberating sonic presence. SRT regular and Twain Harte resident Kevin Heath, an accomplished character actor appears as well-cast as Prince Eric's faithful guardian Grimsby as he was as Michel in SRT's recent production of Murder on the Orient Express.
More 'Magic' Of Note
11-year-old local Asher Berg aptly plays Ariel's loyal sidekick Flounder. "He did a workshop with us last summer and another this spring — and just has great energy and natural talent — fit the requirements of this role perfectly," Lee enthuses. "
As fantastical in its own way is the stagecraft that allows the Fallon House stage space to transform between a ship's deck, an aquatic kingdom, and various rooms in Prince Eric's realm and give a 20-member cast (many who play multiple roles requiring clever costume changes) plenty of room to move and dance. Charlie Munday, new to SRT, is among them; nimbly moving about the stage in the guise of one of Ursula's eels; and kicking up heels as a ship's crew member and a cook caught up in the melee between Chef Louie and Sebastian. Munday is the choreographer for the production and Lee credits him for the production's highly creative movement and staging.
The production's Scenic & Projection Designer Tijana Bjelajac served as an assistant designer for Broadway's version of The Little Mermaid. "She was excited to put her own stamp on it," Lee shares. The space functions as a jewel box for the cast to revel in through the production's riot of musical styles and fantastical costumes by Lukas Primin Wassman.
Disney's The Little Mermaid at Fallon House Theatre (11175 Washington St. Columbia) through July 17. For details, showtimes and tickets, click here.  https://www.sierrarep.org/shows-events/
For other theaters check out our Theatre section here.