SRT's Dogfight Calls You To Enlist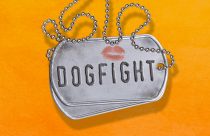 SRT's Dogfight Calls for Adult Audiences Ready To Enlist
Edgy, and provocative, SRT's latest production is as excellent as it is heart-rending. Not for the faint-of-heart it especially eschews theatergoers looking for musical entertainment in the traditional sense.
 Dogfight, a Vietnam War era coming-of-age drama set in Sierra Repertory Theatre's intimate Fallon House at Columbia State Park, has been daringly recast in recent years as a darkly evocative musical that will appeal to adult audience members who welcome the opportunity to brood over societal wrongs, flaws of human nature and perhaps think more deeply in attempting to address them.
The production, reforged from a 1991 indie movie starring River Phoenix and Lili Taylor, had my husband and me arguing as we attempted to dissect it on our way home. While he dismissed it as a sad downer that did not deliver as "entertainment," I remain haunted by its power as an iconic reminder of how perhaps too-many young soldiers who have yet to be comfortable in their own skin — or even feel in anyway rightfully aware of their selves, continue to be all too basically "trained" for dispatch into harm's way. Equally, it evoked how much the powers of tolerance, forgiveness, and redemption really do matter.
The story centers around a young Marine named Birdlace and three of his buddies who have arrived in San Francisco for 24 hours ahead of shipping off to the Vietnam War. They plan a "dogfight," which is a cruel game centered around a dance party to which they all are competing to bring the ugliest date, unbeknownst to those they invite.
In a small family diner, Birdlace encounters Rose, a positively radiant but shy songwriting waitress, on her break as she practices while playing guitar between customers. While initially suspicious of his motives, she becomes charmed and accepts his proffered invitation. While he develops true romantic feelings (and resultingly, understandable misgivings) ahead of squiring her into an event full of wild misfit dates chosen in attempts to "win" the dogfight, she remains to her detriment, "all in" to experience what she considers their – and her — first "date."
In the devasting aftermath, the two come to reset their evening, ahead of his hours away obligations of returning to ship out from his Marine homebase. Birdlace's immature mindset and decisions and those of his buddies will come to haunt him after things get real in Vietnam.
Audience goers will be impressed by the level of talent, passion, and commitment from every cast member towards the telling of this very deep coming-of-age war story.
It isn't pretty or a lot in the way of uplifting to be sure but for those of us who ponder the "whys" of such artistic efforts, it will resound as a study within the interplaying spectrum where we see and experience the lows and highs of human nature. 
Dogfight by SRT playing Wednesdays through Sundays at Fallon House Theatre (11175 Washington St., Columbia). For tickets and more details click here.