Legislation Is More Effective Than Litigation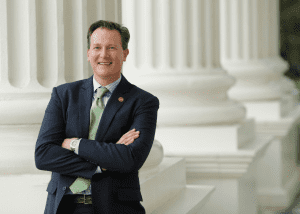 As a member of the Senate Natural Resources and Water Committee and a former chair of the San Joaquin River Conservancy, I have a deep appreciation for California's public lands and natural resources. California is unique in its geographic wonders and devotion to natural resource protection. Visitors from all over the globe flock to California to bear witness to the towering forests in the Sierras, the warm beaches of the coast, the vineyards of wine country and the deserts of Mojave. I am honored to represent a district that encompasses many treasured public lands, including three national parks.
Originally passed in 1970 and signed by then Governor Ronald Reagan, the California Environmental Quality Act (CEQA) was a legislative attempt to provide guardrails for new development projects in an effort to protect the state's natural resources.
Unfortunately, CEQA has morphed into a legal weapon for lawyers and activist groups to stall essential projects and infrastructure. The pattern is well established. For example, if Group X opposes Group Y's project and files suit under CEQA, developers are frequently coerced into paying financial concessions bound for pockets often unrelated to the underlying project. This leaves room for trial attorneys and special interest groups to use CEQA as an environmental sword rather than a shield to extract concessions from affordable housing developers, hurting underserved communities in all regions of California. If the legislature wishes to tackle challenges such as income inequality and affordable housing then CEQA abuse must end.
I am far from alone in recognizing the misuse. In his first State of the State Address last February, Governor Gavin Newsom called on the Legislature to address CEQA reform: "In recent years, we've done a good job expediting judicial review on CEQA for professional sports. But it's time we do the same thing for housing." This call inspired me to pursue bipartisan legislation to help address our housing problem.
Last year I introduced Senate Bill 659 that would authorize courts to award reasonable attorney's fees to a prevailing party if the court found the petitioner used actions, tactics, or claims that were both made in bad faith and were frivolous or intended to cause unnecessary delay. In a nutshell, SB 659 aimed to dissuade non-meritorious CEQA litigation. With the skyrocketing costs of housing in California, the state needs to take all measures necessary to prevent delays and high-cost litigation from discouraging affordable housing projects.
As a Republican, it is daunting to introduce a CEQA reform bill and expect it to move successfully through the legislative process. Nevertheless, this bill passed both the Senate Environmental Quality and the Senate Judiciary Committee with bipartisan support, proving there is common ground on CEQA reform. Despite our efforts, the bill was rerouted from the Senate floor vote to the Senate Appropriations Committee where it languished.
Developing more infill housing directly aligns with the state's climate change and land use planning goals, as outlined in the Sustainable Communities Strategy. Yet frivolous lawsuits by bad actors that use CEQA as a political tool are exacerbating the affordable housing crisis. In fact, a Holland and Knight study in 2015 found twenty-one percent of all lawsuits statewide targeted residential development.
Sacramento fails to acknowledge that a well-intentioned piece of legislation has been wielded by opportunists as a legal weapon. Rather than leaving important environmental regulations up to ad-hoc court decisions, we must craft new legislation in Sacramento to reflect our need for both economic growth and reasonable environmental protections. California will continue to endure an affordable housing crisis until CEQA reform is achieved.
Senator Andreas Borgeas serves District 8 in the California State Senate. Follow him on Twitter: @SenatorBorgeas