Emotions are high as we continue to work through Covid-19 and the effects that it is having on the world, our nation, our state and our county. There has been much confusion as the result of institutions such as the WHO and CDC apparently becoming politicized, changing directions and losing people's trust.
As a County Supervisor, I see almost complete division locally. A large portion of the elderly and retired want to strictly adhere to the Governors shut down orders and everyone wearing a mask, while many who need to continue to work, want to be left alone and decide for themselves if they should wear a mask or not. When I listen to both sides, they both have reasonable arguments for their conclusions. I respect both perspectives.
I have been a firm believer in wearing a mask since the beginning of this situation. On March 27, I authored a blog about wearing a mask here. The simple reason was because medical professionals believe wearing a facemask is 3 to 5 times more effective than not wearing one. Countries such as Taiwan and New Zealand that required masks quickly got the virus under control and were able to reopen their economies.  Wearing a mask helps protect others, prevents you from touching your mouth and nose, and reduces the viral load should you become exposed.
On April 20th, I authored a blog and noted "I believe we are quickly approaching a breaking point where the medical crises may turn into a social crisis. We cannot continue much longer down this road with our economy. Finally, the difference between essential and non-essential jobs is becoming less clear. We are an economy of working men and women. Every person is essential. It does seem that if everyone returned to work wearing a facemask and continued social distancing with enhanced hygiene practices, then we could all resume a more normal life."
My perspective is the country was caught short with a limited supply of masks and there was legitimate concern about having enough for healthcare providers and first responders.  But instead of being told the truth, we were told masks were not helpful. As information came out, I believed this situation quickly became politicized. Once things were politicized, people shut down and stopped listening or they became polarized.
By the time the "science" of wearing a mask became more mainstream in the United States, it was too late.  Now our government has a credibility problem, so the only thing that will convince people is the personal experience of getting the virus or knowing folks who get it and as a result, have health issues.
If I were Governor, I would have done exactly what I stated in my blog on April 20th and this would have been my press release to the State of California:
"You all are essential. We need you all back at work, we need our kids back in school and we need to learn to live with this disease and any future disease which may come our way. How are we going to do this? Simple. Wear a mask, practice social distancing and enhanced hygiene. Although WHO and CDC say not to wear a mask, we know they are saying this to conserve PPE equipment. I am not going to lie to you, we need those masks for our medical folks and first responders, their lives are on the line. For everyone who turns in a N95 mask, you're going to get a $100 tax deduction. For everyone else, make or buy a cloth mask and get back to life. As long as everyone who is able wears a mask, government will step aside and stay out of your way."
Regarding school openings, a number of other countries have succeeded in reopening schools with minimal disease spread.  They require masks and social distancing.  It is known that school children are much less susceptible than adults to contract and spread the disease. Getting children back to school is important for their emotional well-being and for their parents, many of whom need to work.
On 7/7/20 our BOS approved an educational component proposed by the Public Health Department. People are calling night and day complaining about businesses (for example, servers at a restaurant not wearing a mask) not abiding by Governor Newsom and State Public Health Officer Dr. Angell's order to wear masks. This component of Public Health was created to advise business of complaints, educate them on the order and give them up to $2K to buy personal protective equipment (PPE) in order to come into compliance with health orders.
Why are we doing this? For me, it's about two reasons, to make sure the spread of Covid-19 in our community does not bring our local hospital anywhere near surge capacity and second, because Governor Newsom has threatened to withhold up to $5M in CARES act funding and about $1M from the state budget, to our county if we don't comply. Having some data that we are educating our local business on the health order, will provide that data of compliance, so thank you in advance for helping us help you. Finally, if you go to a business and don't like what you see, leave, don't sit there and complain. Be responsible for your own actions and your own life.  It's not your job to drive around and report businesses, if you are that upset, stay home. If I continue to hear of specific groups and organizations of people targeting local business, I will bring the discussion back to our BOS to close this branch of the Public Health Department.
In summary, I don't like where we are as a State. I think if we masked up back in April and opened everything back up, we would not have public health orders from the Governor for masking and for compliance.
We just celebrated the Declaration of Independence on July 4th. In the Declaration of Independence, it states: "That to secure these rights, Governments are instituted among Men, deriving their just powers from the consent of the governed."
The only power the Governor has, the only power the BOS or any part of government has, is what the people are willing to give… the consent of the governed.
If government wants to maintain any sort of just power or order, then we must always tell the truth and try to make informed decisions, not based on political preference or outcome.
TOT and Parcel Tax
On 7/7/20, our BOS discussed future funding for the Tuolumne County Fire Department. If we are going to affect long-term change, including upgrading outdated fire trucks, apparatus, fire stations, staffing etc., we need approximately $3.5M per year moving forward. We spent about $400K per year until the last two years where our BOS collectively put more towards fire than ever before from the General fund. $1.6M (2019-20) and $1.4M (2020-21). Last year we put almost 1M extra to purchase one new fire engine. Still, it is nowhere near enough. On 7/15/20, our board again discussed the fire parcel fee tax, however this time, instead of just talking about funding Tuolumne County Fire (outside the special fire districts), we requested staff to work with all the special fire districts in our County to come together with one unified message and ballot measure which will allow every voter the chance to fund all fire districts in a greater capacity. Unlike the $150 SRA fire fee we were all forced to pay from 2011 to 2017 which monies went to the State, this local fire parcel fee would stay directly in Tuolumne County and only be used as a fire department funding source. In order to make sure this message and information is unified by all fire districts and Tuolumne County; we have pushed this discussion and possible elections towards next spring.
Our BOS also discussed a 2% increase in Transient Occupancy Tax (TOT). I voted no on allowing the TOT to go to the ballot.  TOT does not specifically fund fire. It goes to the general fund and could be used for any purpose. Second, our economy has been decimated by the effects of closing down the economy. Who wants to raise any sort of tax whether it's on us or our visitors? Finally, while the TOT will help pay for services such as fire departments and law enforcement if it passes then why would voters approve a parcel fee the following spring? I want a funding source that is secure and specific to fire. The parcel fee specifically funds fire, not the general fund.
Approving recommended budget:
On June 26th, our BOS approved the recommended budget. There was a discussion about closing some of the libraries in District 3 including Twain Harte. The BOS agreed to leave the Twain Harte Library alone until we see what our final revenues are before the adopted budget. At this meeting, we also eliminated 8.5 positions, froze 25 positions, and furloughed 6.
Black Live Matter Protest
When I heard our local business might be the target for violence due to a black lives matter protest, I issued a blog asking our community to pray for our county, state and nation here.
Mt. Provo Road Fire Evacuation Route
Two years ago, while campaigning to be your District Three Supervisor, I went out on Mt. Provo Road to knock on doors.  I drove in a four-wheel-drive vehicle and several times thought I would not make it. "What would happen if a fire tore through Ponderosa Hills?" a resident on the road asked me. Everyone would get stuck and people might die. I realized fixing this road would be one of the most important jobs I should get done while in office.
I am excited to announce Mt. Provo Road is drivable just in time for fire season.  I look forward to working with folks in our community to come up with a permanent solution for Mt. Provo Road.  You can read my blog on this issue here.
High Definition Fire Cameras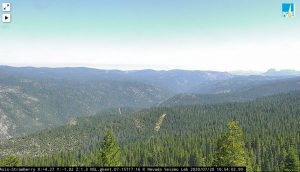 While I continue to push for fire evacuation systems throughout my district, another great early alarm system has been put in place by PG&E. These high definition cameras in the Strawberry area can detect the first smoke of a wildfire.
Resilience Center in Groveland and Tuolumne City
On 5/5/2020 our board discussed the next phase of building the resilience centers which are grant funded as part of the RIM fire aftermath.  Due to the unfolding situation with COVID-19 and the impact on our economy, I was concerned about the potential financial strain these buildings could have on our future budgets. My questions about operating costs moving forward were met with reasonable information and data, therefore I voted to continue with the grant funded resilience centers.
Juvenile Hall
On 5/29/20, our board reviewed a presentation on the operating costs of the Mother Lode Regional Juvenile Detention Facility and options for closing it.  The numbers made it appear there would be no cost savings in closing the hall or doing a "warm closure." I challenged the numbers and information presented. Our board pressed the department to work with neighboring counties which utilize our hall to pay higher rates.  So far, significant progress has been made in negotiating contracts with these other counties, however, if the signed contracts are not in place prior to the adopted budget, I will propose again that our BOS close the juvenile hall or a "warm closure" and utilize the Hall in a different manner.
Visitors Bureau
Our Visitor's Bureau continues to make a mark on our economy.  In 2019, travel spending in Tuolumne County was $273M, up 7% from 2018.  State and local tax receipts were $21.3M, up 8.7% from 2018. The tourism industry supported over 4000 jobs.  Source: deanrunyan.com (Visit California's Travel Impacts partner)
Tuolumne Tele Town Hall Meeting
There will be a Tele Town Hall focusing on insurance issues and available resources for small businesses during the COVID-19 pandemic emergency and the fire season. The meeting is hosted by Tuolumne County Association of Realtors and CA Insurance Commissioner Ricardo Lara.
Wednesday, July 22, 1pm to 2pm
Call In: 844-767-5679, Access Code: 6107328
Pinecrest No Parking Signs
With the assistance of public works and the road crews, 75 no parking signs have been put in place in the Pinecrest basin where illegal parking has taken place for years.
Road Maintenance
The road department has been hard at work in District 3. Pothole patching, garbage removal, shoulder and ditch regrading, dirt barriers, regrading gravel roads, culvert and drain cleaning, brush removal and machine sweeping. For an in-depth list of where the work has occurred, you can contact my office for further details.