Economic Injury Disaster Loan And More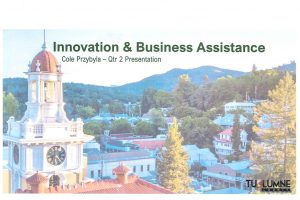 On Tuesday April 14, 2020 at 10:00am the County of Tuolumne Innovation and Business Assistance Department held a second webinar featuring the Deputy Director for the Fresno Region of the Small Business Administration.
Prior to the webinar, the department notified 1,526 businesses via a recorded phone call and 1,195 businesses via a text message that stated, "This is Cole Przybyla with the County of Tuolumne Innovation and Business Assistance. Today, April 14 at 10:00am I will have a livestream featuring the Small Business Administration Director for our region discussing the Economic Injury Disaster Loan and more. If you are interested you can watch at www.accesstuolumne.org/live"
75 Attendees joined via the Zoom Platform and based on Access Tuolumne Website Analytics 161 attendees joined via a LiveStream.
If you are interested you can watch the recorded webinar HERE
Below are the ten things you should know from the webinar:
1. "If you have submitted an application and received a number 3 in your confirmation number, you are in the process and your application will be reviewed. If your confirmation number starts with any number other than 3, resubmit application to confirm your business is in the que and to confirm you get access to the up to $10,000 advance. You will not lose your place in line" stated Dawn Golik, SBA Deputy Director Fresno Region.
2. Several businesses have gotten decisions in our region with the Economic Injury Disaster Loan and have money deposited or is in the process of receiving their funds. There are no physical checks being sent. All money will be direct deposits into business accounts.
3. Locally, the Groveland Hotel applied on March 18 for the Small Business Administration Economic Injury Disaster Loan and Advance (EIDL), back when the online application was a long form. They reapplied March 30 with the short form to ensure access to the Advance component of the loan. On April 5, Groveland Hotel received approval for their EIDL. On April 12, they received closing documents. The advance for the Groveland Hotel will be bundled with their entire loan disbursement, not as a separate cash advance.
4. Advice from Jenn at the Groveland Hotel, "Be prepared to file a UCC form with the Secretary of State." Business owners can find that info HERE.
5. If you already have an SBA Disaster Loan, you can apply for a new loan. Payments on previous plans will be deferred until Dec 2020. Follow up with your SBA lender to confirm your payment deferrals.
6. The SBA will not assist your business in creating Payroll Calculations for the Paycheck Protection Program. I can share an excel sheet created by Oak Valley Community Bank to get your calculations started. Your bank may require different documentation. The excel sheet is a place to start. Please email cprzybyla@co.tuolumne.ca.us for the excel file.
7. A Paycheck Protection Program (PPP) loan can turn into a loan if you do not use the money for intended purposes of payroll and agreed upon business expenses. A PPP loan would have 1% interest and deferment of payments up to 6 months. If you use PPP money for payroll or approved expenses, the loan will be forgiven.
8. REMINDER, Sole proprietor's can be the sole employee when applying for a PPP loan, a Sole Proprietor can apply to SBA EIDL and a Sole Proprietor can file for unemployment with the State of California.
9. The National Disaster Declaration extends through to December 2020, which means there are no limits, currently, to the number of businesses the SBA can assist.
10. Best way to reach our region's SBA is through email at fresno@sba.gov
The office typically responds within one business day. If no response, you have the option to leave a voicemail at Fresno Region office by calling 559-487-5791
Final reminder and promise, I am here to assist your business and be a resource to you. Please call me with any questions, guidance or connections you may need for your business. I can be contacted by email, text or phone call.
209-288-4030