Comments From TuCARE Regarding TUD Actions
Tuolumne County Alliance for Resources and Environment (TuCARE) was established in 1988 to enlighten and advise the public about the wise use of our natural resources. TuCARE and TUD certainly agree that water is one of our most precious and vital resources, and is critical to a healthy environment, prosperous local economy, and quality community. Unfortunately, recent actions and public statements by board members Balen, Murphy, and Ringen have led TuCARE to conclude that TUD's mission is being set aside in favor of these directors' political and personal agendas.
Specifically, at the February TUD board meeting, TUD staff gave a presentation regarding the County's water supply and snowpack. That presentation demonstrated that, although the 2020-21 water year is indeed well below average, the County nonetheless has ample water in the form of storage and anticipated runoff to meet existing demand into the 2021-22 water year. However, Directors Balen, Murphy, and Ringen essentially voted to not confirm this year's water supply, thus sending a strong message that they are seriously considering suspending any new water hookups. Such a drastic action would have seriously damaged our local economy and contributed to an already critical housing shortage.
While the current water year is indeed disappointing, TuCARE would also like to point out to these three directors that the April 1st surveys on every snow course within the Stanislaus and Tuolumne river watersheds (31 in total) confirmed that the current year water content is still well above the 2012 through 2015 April 1st average. Moreover, for the majority of snow courses, there was not a single year within the four drought years where the April 1st water content was greater than the current year April 1st water content.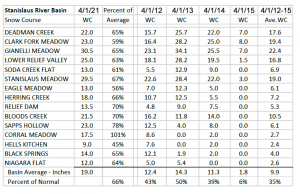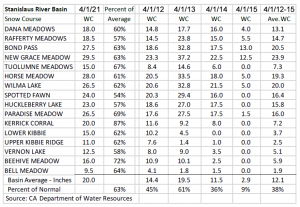 Perhaps even more disturbing was the recent action whereby these same three directors voted to fire General Manager Ed Pattison, without cause. In Ms. Murphy's case, this vote was made after being in office for less than four months! Given the revolving door of the general manager's office at TUD (at least six different GMs since 2013), TuCARE believes this action, particularly when done without cause, clearly demonstrates these directors' personal agendas at the expense of TUD ratepayers and contrary to TUD's mission statement. Finding a replacement for Mr. Pattison will likely result in well over $200,000 of ratepayer money being wasted on severance costs, search firms, attorneys, and staff time. At a critical time when TUD needs stability, this vote has without a doubt destabilized the organization.
Mr. Pattison was clearly qualified for this position (was hired with a 5-0 vote) and had demonstrated an aggressive and effective approach in accelerating TUD's attempt to secure water rights for Tuolumne County through both the PG&E Phoenix Powerhouse acquisition and the New Melones CVP contract. Mr. Pattison was also successful in obtaining an amendment to the State Water Board's certification regarding Pinecrest Lake elevation and the ability to draw that reservoir down during dry years. It also appears that Mr. Pattison accelerated the implementation of many projects within TUD's capital improvement plan. All of these accomplishments came after years (and in some cases decades) of little to no action.
Now a new GM will need to be seated and get up to speed while these three directors continue to micromanage the day-to-day operations of TUD. Contrary to what has been quoted in the local press by these directors and TUD counsel, these three directors have lost the confidence of TUD staff and the public.
Melinda Fleming, Executive Director