Clue: A Hilarious Whodunit Rollercoaster Ride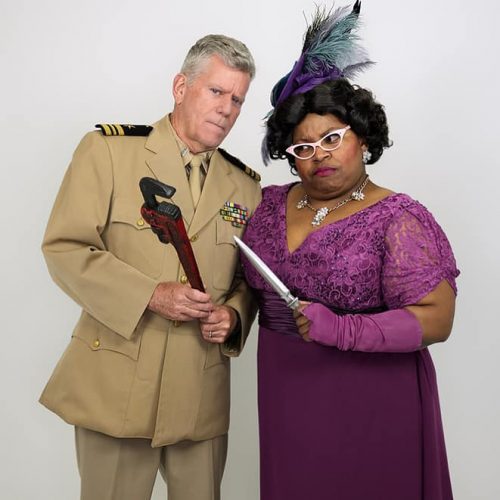 An oddly familiar multi-roomed manse with would-be murderers lurking in every room has taken over the Fallon House Theatre stage where audiences can now play sleuth in the wackiest game of Clue yet.
Clue, the current production of Sierra Repertory Theatre (SRT), is most definitely based on Paramount Pictures' mid-1980's darkly comedic film inspired by the beloved Hasboro board game. In fact, the screenplay by Jonathan Lynn, who also directed the movie version, was adapted for the stage by actor and award-winning playwright Sandy Rustin.
After seeing both, I think I prefer the stage play over the movie because it goes so far over the top to resolve the whodunit part – and in an even more twisted way. It also requires the cast to block and run through so many carefully timed, deft moves that I felt like I might have met my smart watch's 5,000 steps goal just breathlessly watching them scamper around and behind the set to hit all their marks.
The SRT cast fully commits to a 90-minute (no intermission) uber-campy performance that whips into a rollercoaster frenzy once murder victims begin to stack up in the various cleverly articulated manor rooms that every Clue board game fan will readily recognize.
We are quickly introduced to the main characters, a butler, maid and six dinner guests who (it soon becomes apparent) are blackmail victims. Others quickly become persons of interest once the game is afoot, including the mysterious manor home's owner, the cook, and a subsequent parade of seemingly hapless callers (a motorist-driver, a cop, and a singing telegram girl) that continue to arrive at the front door.
Murders, Merry Mayhem Abound
In the role of Wadsworth, the butler (played by Tim Curry in the film), Guest Artist and LA-based Actors' Equity Association veteran Louis Lotorto delivers an initially nuanced performance that rockets into the comedic equivalent of a fireworks finale. Other appearing Guest Artist/AEA Members are Matt K Miller (last seen as Buddy the Elf's father Walter Hobbs in SRT's recent production of Elf the Musical), who plays dense military blowhard Colonel Mustard, and Ileana Kirven as batty, neurotic senator's wife Mrs. Peacock.
An international and Broadway stage vet Jill Slyter, who apparently some time ago traded a full-time acting career for that of a hospice nurse, has apparently crept back into her former passion on the side. She is obviously a high caliber talent and completely captivating as the pale, morbid Mrs. White (played by Madeline Kahn in the movie) who may or may not have been behind the demises of a string of ex-husbands.
In the role of Miss Scarlett (played in the movie with femme fatale precision by Lesley Anne Warren) SRT gem Laurie Strawn (Princess Dragomiroff in Murder On the Orient Express, Clairee in Steel Magnolias) exudes all the essential street smarts and feminine wiles of a madam turned state secrets conniver. Also delivering solid performances are long-time SRT regular Ty Smith (most recently featured in The Christmas Foundling) as skirt-chasing Professor Plum; Kevin Heath (Grimsby in Little Mermaid: The Musical, Michel in Murder On the Orient Express) as the officious Mr. Green; and Isabella Chang (Shelby in Steel Magnolias) as Yvette the maid.
Among the ensemble members I greatly enjoyed watching SRT regular Sarah Villacarillo, who brings tremendous gusto to her quick-change turns as Cook, the singing telegram girl and member of a colorfully memorable police force crime-busting team. Jeffrey Weissman and Christopher Michael likewise make sparks in their multi-role appearances.
Clue, now playing through May 7 at Columbia State Park's Fallon house Theatre, directed by SRT Artistic Director Jerry Lee, is open through May 7 with evening performances Friday-Saturday, 2 p.m.; matinees Thursday, Saturday-Sunday, and noontime Wednesday. Get more details here: https://www.sierrarep.org/