Advertising On Social Media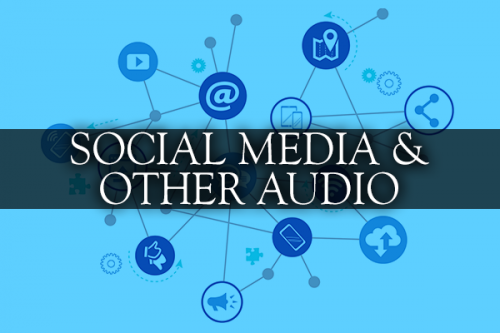 Likes Versus Loves
If you use social media to advertise your business, keep this in mind. "Likes are not made on Facebook. They are born from great experiences you create for users offline." It's difficult to say who first uttered that quote, but it's a great reminder that social media like Facebook can only be a residual part of your relationship with consumers. The consumer needs to be familiar with your company, your product or your service to make the decision to try you out. Then, when the customer pays you a visit, be certain that their experience with you is top-notch. Because there's another quote to keep in mind – "you never get a second chance to make a first impression". Radio advertising to a mass audience combined with display advertising on mymotherlode.com is the fastest and best way to invite familiarity because no one reaches more of your potential customers than Clarke Broadcasting. For more great marketing insights, call us at 209-533-1450 and ask for our Sales Manager.
Other Audio
You may think that everyone listens to Spotify or Pandora. Well, think again.
While there's no denying that streaming services like Spotify and Pandora are popular, AM/FM radio is still far more popular. If you've been fooled by the presumed popularity of streaming services, you're not alone. According to a survey by Edison Research, the audience share for AM/FM is twenty-one times larger than the audience share for Spotify, and fourteen times larger than the audience share for Pandora. Many people think streaming services are putting radio at a huge disadvantage. Not so.
Radio still remains the number one way that new music is discovered. Not only that, but radio delivers fresh, new content, and here art Clarke Broadcasting we have an enormous audience that is kept up-to-date with fire and other emergency information, keeping you and your family safe.
Digital Advertising
Internet advertising has been around for more than 25 years now, and it's still the Wild West.
Every time you go on the internet whether on a PC, tablet or mobile phone you see advertising.
Companies are watching your every move online and serving you ads that seem relevant to you and your interests. Unfortunately for these advertisers, the amount of fraud that is being perpetrated online is staggering. For every person like you there might be a thousand that are fictitious. As recently as 2019, Facebook purged 5 point 4 BILLION fake accounts.
Uber believes they wasted two-thirds of a 150 million-dollar online ad budget, advertising to people who don't exist. MyMotherLode.com is different. It's one of the most-visited news websites in all of Northern California and the vast majority of people who visit the site are here, local and best of all, real. Advertising on myMotherLode.com works for dozens of area businesses and it can work for your business as well.
Social Media
Social media has changed the way the world communicates.
Most people use one form of social media or another. At Clarke Broadcasting, we use social media to keep in touch with our listeners on a personal basis. The issue with social media is that we expect it to deliver huge results when it's used as an advertising vehicle. Take Facebook for example. Lots of businesses utilize it because it's cheap. But be careful – even Facebook acknowledges that only two percent of all posts are actually noted. We're a massive society, and reaching only two percent of users, one at a time keeps your business from reaching enough consumers. That's why a mass medium like radio works well in conjunction with your social media efforts. Ninety-three percent of Americans use radio on a weekly basis, so your customers are listening, and no one has more listeners than the three stations of Clarke Broadcasting. For more great marketing insights, call us at 209-533-1450 and ask for our Sales Manager.
Consistency
Social media has allowed many businesses to expand their marketing at a reasonable price. But social media can only take you so far, reaching people one at a time. And, you can't control when they absorb your message. By combining radio with social media, you get a great one-two punch. Just be certain that your messaging is consistent no matter what the message is. – that your website is updated regularly, and that whatever aspect of your business you're promoting, there's no confusion on the part of the consumer. At Clarke Broadcasting, we're experts in utilizing social media and combining it with the power of radio. We can also make sure that your media assets have a consistent message for ultimate effectiveness. Remember, your website is what you say you are. Social media is what your customers say you are. Both need attention in order to function as effective advertising. For more great marketing insights, call Clarke Broadcasting at 209-533-1450 and ask for our Sales Manager.
Frequency
What's the very best way to make your brain remember something?
Your memory is fueled by repetition. The more your brain is stimulated by an idea, the more it can recall. In radio advertising, this is accomplished through frequency. Even the very best commercial with the most creativity, urgency, and best deal can get lost. Our brains process tens of thousands of messages every day. To have sustained success in advertising you need frequency. Frequency insures that your message gets through, and consistent radio advertising means that you will achieve this frequency with your target audience no matter where they are in the buying cycle. Those advertisers that you immediately recognize both nationally and here in the Mother Lode have made themselves recognizable by consistent advertising with a message that is repeated frequently. Radio reaches 93 percent of Americans weekly, so put that big audience to use with frequency. For more great marketing insights call Clarke Broadcasting at 209-533-1450 and ask for our Sales Manager.
Get more expert advertising advice here.