Save Hundreds of Dollars in Fifteen Minutes'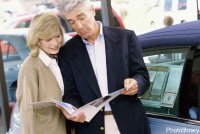 (ARA) – Just as there are many differences between a Toyota and a Lexus, there are many differences between auto insurance policies, although you have to look more closely to spot them. However, choosing a low-cost auto insurance policy may end up costing you thousands of dollars. The familiar pitch, 'save hundreds of dollars in fifteen minutes,' obscures complex coverage issues that may have you paying much more in the end.
Your Liability Exposure
Many auto insurance policies have low liability limits which don't reflect an individual's true worth. In fact, in several states, the recommended limits are as low as $25,000. Because every auto insurance policy is different, it's best to read your policy carefully and make sure you're not part of the up to 50 percent of drivers who are under-insured. If you are in an accident with someone who is uninsured or under-insured, you could personally be responsible for medical expenses, lost income and other damages.
'Using a cookie-cutter approach is simply not appropriate for buying auto insurance, especially if you have significant assets to protect or specific needs,' says Don Soss, chief underwriting officer for Fireman's Fund Insurance. 'You need a custom assessment of your risk profile when selecting car insurance. It's critical to go through an agent who understands and can respond to your individual situation.'
Sales Representatives vs. Insurance Agents
An independent insurance agent will be able to give you details on what a policy covers, and make recommendations on what is best for you, based on your lifestyle. This differs from a telephone sales representative who is often working from a script, and is only able to quote prices, not make recommendations. When talking to an independent agent, it's important to discuss:
The extent of your assets and net worth
Your views about asset protection and insurance
Your expectations if you have a claim
The Replacement Gap
Many carriers often fall short in insuring full replacement value for your car in case of a total loss. They usually pay settlements for total losses based on the actual cash value of your vehicle, not on the replacement cost of the original. If you want to purchase a comparable vehicle after a total loss, you'll probably have to cover the gap out of your own money.
A few policies, including Fireman's Fund Prestige Auto policy, feature coverage which protects you against depreciation in case of a total loss. Such a policy pays the full purchase price for your car, including taxes and license fees, if you 'total' the vehicle during your first year of ownership. Even the deductible is waived. Each year thereafter, the company locks in the car's value as determined by the industry's standard 'retail' Blue Book.
Multi-car Owner Penalty
Car owners who have more cars in the family than drivers can be shortchanged by mass-market insurers.
'Most insurers don't expect customers to have additional cars that aren't regularly driven by a household member,' says Soss of Fireman's Fund. 'Most insurers assume that those extra cars are being driven — more often than not — by undisclosed teenage drivers who would otherwise cause the customer's premium to skyrocket.'
In reality, many people acquire additional vehicles for recreation or collecting that actually are not being driven on a regular basis. In that case, it's best to find an insurance company that can customize rates, offering deep discounts for additional vehicles that other insurers can't match. 'In effect,' adds Soss, 'mass-market carriers penalize their clients for additional vehicles, whereas specialized insurers reward clients.'
Small Things Add UpThe items covered — or not covered — by the fine print in a low-cost policy may appear small when you first sign up, but they can assume a larger significance when you have a loss. For example, mass-market coverage for repairs often provides incentives for policyholders to use 'in-network' repair shops. While more specialized insurers allow you to pick the repair shop you want without a cost penalty.
Which Do You Choose?If you're not sure about the extent of your current auto coverage, look at the declarations page of your policy. Your agent can also help you decipher the fine print and make a true comparison between your current coverage and a more comprehensive product. Since an independent agent is not employed by a single carrier, his or her first responsibility is to the client. Your agent has a legal and fiduciary responsibility to provide proper coverage.
Courtesy of ARAcontent
---