How to Save Money While Tackling Your 'Honey-do' List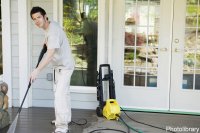 (ARA) – The warmer temperatures outside signal more than just a change of season. Do-it-yourselfers everywhere are itching to get started on their 'Honey-do' lists. The lawn needs aerating, the front walk needs pressure washing, the gutters need cleaning, those cracked tiles in the foyer need replacing and the list goes on.
Your first thought may be to run out to the store and buy the tools and supplies you'll need to get the various jobs done; but why spend thousands of dollars on tools you'll only use once or twice a year? The American Rental Association (ARA) recommends that cost-conscious do-it-yourselfers consider renting tools instead.
Whether you need a pressure washer, paint sprayer, tile cutter, wallpaper steamer, nailer or some other single-use tool, there are dozens of tools available for do-it-yourselfers to rent.
The ARA offers the following step-by-step tips for home improvers interested in renting tools on its Web site:
To contact a nearby rental store, go to www.RentalHQ.com, ARA's free, rental store locator that lists thousands of locations.
Explain the details of your project to rental store personnel. Once the scope of your project is understood, an ARA rental professional will recommend the exact type and size of equipment you'll need and help you determine what additional supplies you will need to complete the job correctly.
Before you actually rent an item, organize your work area so you can use the equipment right away when you get home. For example, if you are sanding a floor, remove and/or cover all furniture from the room you will be working in before you pick up the sander. This preparation can save you money because the rental store charges for the time the equipment is in your possession, not for the time you spend using it.
When you pick up the equipment, a rental store employee will explain to you how to use it correctly and safely. ARA rental professionals are trained to not only rent equipment, but to operate it as well. If you don't understand the instructions or feel uncomfortable operating the equipment, ask for more information.
Make sure you understand the store's rates, hours and policy for returns. Depending on the store, you may be able to rent by the hour, half-day, day, week or month. Generally, hourly rates have a set minimum time that is less expensive than renting for an entire day.
Understand your responsibility for the equipment. Usually, the store is responsible for equipment maintenance and will replace any equipment that breaks down during normal use. But when damage occurs because of a customer's negligence or misuse, he or she is responsible for repair or replacement.
For more ideas on using rental equipment for a do-it-yourself project, go to www.RentalHQ.com. In addition to hosting the world's largest rental store locator, this site offers dozens of tips and ideas for home improvers.
Courtesy of ARAcontent
---