How to Better Protect Your Home and Family from Fire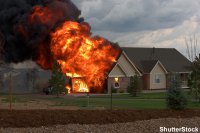 (ARA) – Americans are in love with statistics. That's probably because there are so many of them, and they're typically impressive numbers. Natural disasters and other life-threatening situations are often viewed in terms of statistics — dollars spent and lives lost.
From a purely statistical perspective, the total U.S. fire cost over the past three years exceeds direct costs and losses associated with all other natural disasters combined, including floods, hurricanes, tornadoes and earthquakes in the U.S. During this time, the total cost of fire approached $750 billion with 12,000 fatalities. That means, on a per capita basis, the U.S. has one of the worst fire problems of all industrialized nations.
According to the NFPA (National Fire Protection Assoc.), 82 percent of fire-related civilian deaths in the U.S. in 2005 occurred at home. That's more than 3,000 lives lost each year in this country where we believe we are safest inside our own homes.
What's even more tragic is that many of those deaths could have been easily prevented. According to the Home Fire Sprinkler Coalition, the use of a smoke alarm and fire sprinkler system together reduces the risk of death in a home fire by more than 80 percent compared to having neither. It doesn't take a mathematical genius to calculate that if we can prevent more than 80 percent of the majority of fire-related deaths, we could save a lot of lives quite easily. So what's the problem?
Smoke alarms are already common with 96 percent of homes reporting the presence of at least one alarm. This is probably because smoke alarms are required in all new dwellings. Fire sprinkler systems, on the other hand, which are currently only required in multi-family dwellings (depending on story height), are only installed in 2 percent of American homes.
Surprisingly, in nearly 25 percent of reported fires in smoke alarm-equipped homes, the devices didn't work — primarily because they were not properly maintained. Fire sprinkler systems, on the other hand, have a life expectancy of 50 years and require virtually no maintenance, especially if they're non-metallic and not subject to corrosion.
In a study completed in 2006, it was further found that only 58 percent of a test group of children ages 6 to 12 awakened when a standard smoke alarm sounded, and only 38 percent of the test group evacuated successfully. That might be one reason that another recent study documented an alarming 24 percent of fire deaths in one- and two-family dwellings occur in homes with a working smoke detector. And, since the very young and the very old are the least likely to evacuate in time even if they do hear the alarm sound, it's little wonder that they represent the greatest risk.
Think you're safer from a fire if you live in a newer home? The reality is that most in-home fires are caused by people and are not related to the age of the home. Socio-economic status, occupant density and the age and mobility of the occupants is more likely to affect the incidence of fire-related deaths. How fast a fire spreads is just as much a function of the home's contents and room geometry as it is age.
Only fire sprinkler systems can delay or stop a fire to help provide sufficient time to safely evacuate. Yet, they have not become standard building materials, and many building professionals believe cost is to blame. With copper and steel raw material costs hitting record levels recently, it's easy to see why cost could be an issue with traditional systems. But there are newer technologies that have been proven equally as effective at a significantly lower cost.
BlazeMaster CPVC fire sprinkler systems, for example, have more than a 20-year-track record of proven performance in both residential and commercial applications around the globe. Not only are they less expensive to install from a material standpoint, but because they are also faster and easier to install, they offer significant labor savings. Yet, they have passed all the pertinent safety tests to be considered a fire-safe material. They do not give off toxic fumes, nor do they support combustion. Like traditional systems, they have a 50-plus-year life expectancy and meet all applicable fire codes.
For more information on how you can affordably, yet effectively, protect your family and your home from fire, visit www.blazemaster.com.
Courtesy of ARAcontent